Stoney Creek Eye Care & Eyewear Boutique has been serving families for over 30 years. The passion for warm service and exceptional eye care that got us started, continues to fuel us now. As time goes on, we'll keep finding new and more innovative ways to protect your vision.
Bringing Eye Care Into the Future
Though our practice has been around for more than three decades, it has never felt fresher.
We've completely re-decorated our office interior; making it modern, stylish, and high-tech. Everything, from our testing equipment to our eyewear selection, reflects our modern and progressive approach to eye care. The future is here, and it's waiting for you at Stoney Creek Eye Care & Eyewear Boutique.
Serving Our Community
The Stoney Creek community has done so much to support us over the years. We think it's only fair that we return the favour and support the community.
Stoney Creek Eye Care is proud to give back in all sorts of ways. We've sponsored local sports teams, held holiday food drives, and do whatever we can to help out. It's an absolute pleasure to be a part of the Stoney Creek community, and we're proud to contribute to its local culture.
Our Mission
Our ongoing commitment is to provide exemplary eye care, glasses and contact lens, with personalized, dependable patient care and education. We also always strive to provide care in a friendly and relaxed atmosphere.

At Stoney Creek Eye Care & Eyewear Boutique our trusted team of eye doctors is committed to providing you with high-quality eye care, stylish frames, and personalized attention. We offer a wide variety of services, including:
Convenient Location, Extended Hours,
and Direct Billing
We understand that life is hectic. We want to help make it a little simpler, which is why our centrally-located practice offers extended hours on Mondays and Saturdays. We're also happy to directly bill most major insurance companies on your behalf. And on top of all that? We've got plenty of free parking. Stoney Creek Eye Care & Eyewear Boutique will always do whatever we can to make your life a little easier, located in the Health Science Building.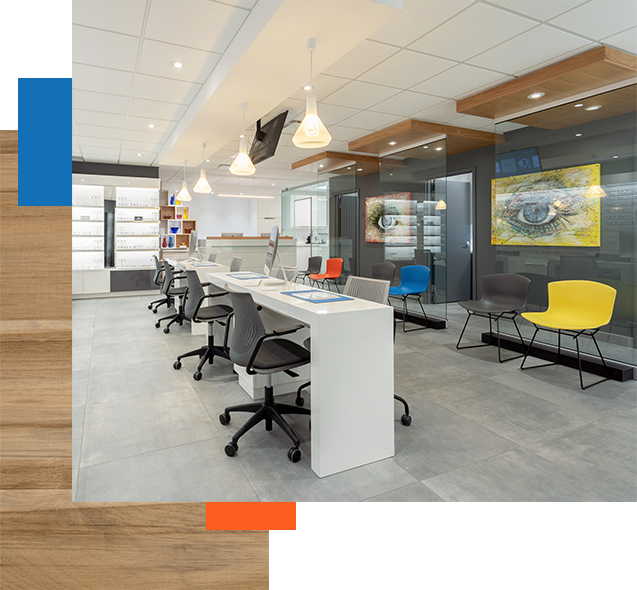 Stoney Creek Eye Care & Eyewear Boutique
15 Mountain Ave S #110

Stoney Creek,

ON

L8G 2V6
Clinic Hours
Monday

9:00 AM - 6:00 PM

Tuesday

9:00 AM - 6:00 PM

Wednesday

9:00 AM - 6:00 PM

Thursday

9:00 AM - 6:00 PM

Friday

10:00 AM - 5:00 PM

Saturday

8:00 AM - 1:00 PM

Sunday

Closed