Myopia, commonly known as nearsightedness, is becoming increasingly common. According to the Canadian Association of Optometrists, nearly 30% of Canadians currently have myopia. This common refractive error causes light to focus at a point in front of the retina and makes it difficult to see distant objects clearly.
Childhood myopia tends to worsen over time, and increasingly higher prescriptions are required for clear vision. Though there is currently no treatment for myopia, there are ways to slow down myopia's progression in children.
Myopia Control at Stoney Creek
At Stoney Eye Care & Eyewear Boutique we pride ourselves on staying up to date on the latest optometric research so that we can offer our patients the best treatments available.
Optical Treatments
Coopervision MiSight Contact Lenses: To help slow the progression of myopia in children we also offer MiSight contact lenses by CooperVision. These revolutionary contact lenses are disposable contact lenses that not only correct your child's vision but also slow down the progression of myopia in most children. These daily disposable lenses are easy to use, and because they are thrown away at the end of each day, there is a lower risk of infection and contamination.
Progressive Addition Lenses: Progressive addition lenses provide vision correction for both myopia and hyperopia (farsightedness) on one seamless lense. This allows you to transition your gaze smoothly between objects at a distance and near with less strain without having to switch suddenly between two distinct prescriptions sections (like with bifocal lenses).
Peripheral Defocus Lenses: Peripheral defocus lenses work to correct the peripheral hyperopic shift. Myopic eyeballs are not perfectly round, and some of the light that enters the eye focuses on the sides of the retina instead of on the back. The eyeball tries to correct for this and capture those errant rays, which causes it to become more elongated, causing myopia. Peripheral defocus lenses help ensure that the back of the retina can better capture those rays of light, reducing the progression of myopia over time.
Pharmaceutical Treatments
Atropine Drops: Stoney Creek also offers low dose atropine drops (0.01%), which temporarily prevent our eyes from changing focus and causes them to relax. This relaxation helps prevent focusing fatigue, which in turn slows the progression of myopia.
For more information about the myopia control treatments available at Stoney Creek Eye Care & Eyewear Boutique, please speak to your optometrist.
At Stoney Creek Eye Care & Eyewear Boutique our trusted team of eye doctors is committed to providing you with high-quality eye care, stylish frames, and personalized attention. We offer a wide variety of services, including:
Convenient Location, Extended Hours,
and Direct Billing
We understand that life is hectic. We want to help make it a little simpler, which is why our centrally-located practice offers extended hours on Mondays and Saturdays. We're also happy to directly bill most major insurance companies on your behalf. And on top of all that? We've got plenty of free parking. Stoney Creek Eye Care & Eyewear Boutique will always do whatever we can to make your life a little easier, located in the Health Science Building.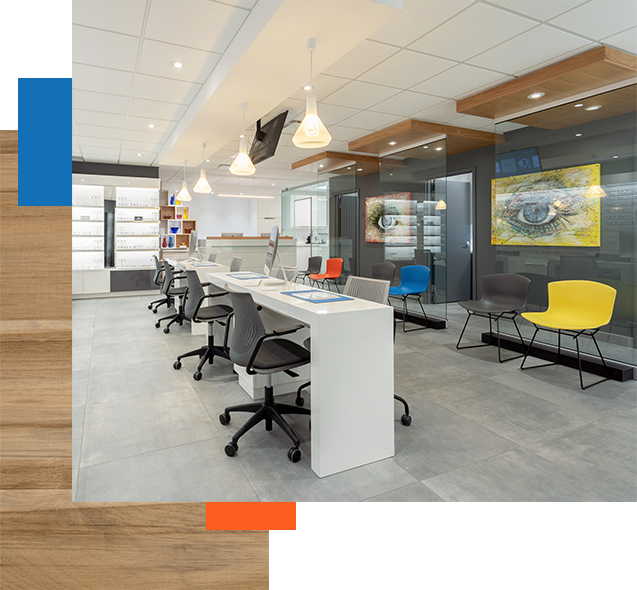 Stoney Creek Eye Care & Eyewear Boutique
15 Mountain Ave S #110

Stoney Creek,

ON

L8G 2V6
Clinic Hours
Monday

9:00 AM - 6:00 PM

Tuesday

9:00 AM - 6:00 PM

Wednesday

9:00 AM - 6:00 PM

Thursday

9:00 AM - 6:00 PM

Friday

10:00 AM - 5:00 PM

Saturday

8:00 AM - 1:00 PM

Sunday

Closed