Contact Lenses for Your Unique Needs
Your eyes are as unique as your fingerprints. So it only stands to reason that your contact lens needs will be unique too. The team at Stoney Creek Eye Care & Eyewear Boutique works with you to find the best possible contact lenses to fit your eyes comfortably and give you the best possible visual experience. Request an appointment for your contact lens exam.
Why Do I Need a Contact Lens Exam?
Even if you've had a comprehensive eye exam recently or you've had contact lens before, it's important that we perform a specific contact lens exam to ensure you're a good candidate for lenses and your contact lens prescription is up-to-date. It also gives us a chance to inform you about new products available and allows you the opportunity to ask any important questions you may have.
What to Expect From a Contact Lens Exam & Fitting
The Exam
Before we can provide you with the right contact lenses, we have to make sure that contact lenses are an appropriate solution for you. That means performing an in-depth exam to evaluate the health of your eyes, making sure that you don't have any ocular health conditions that might make contact lens wear difficult or unsafe.
Perhaps you've been told in the past that you are not a good candidate for contact lenses or we find a condition that makes contact lens wear more difficult, not to worry. There may still be some contact lens options available for you. Scleral lenses, for example, are often used for patients with dry eye disease, irregular astigmatism, or keratoconus.
The Fitting
Once we've confirmed that you're a good candidate for contact lenses, it's time for your fitting. This is like being measured by a tailor for a new suit. We'll take very precise measurements of your eye, calculating your exact prescription. This helps us find the contact lenses that will give you the most comfortable and effective fit, and clearest vision.
The Lenses
Now it's time to try out some contact lenses! Using all the data we've collected so far, we will provide you with the contact lenses that we think will give you the most comfortable fit and the best results. You'll take a sample pair of these lenses home with you to try for a few days. If they work properly and fit comfortably, we'll give you a prescription for them and order a supply for you.
If they don't seem quite right, not to worry. We'll try again until we find the ones that work best for you.
Our Contact Lens Brands
Did you know you can order contacts online? View our contacts available for purchase.
At Stoney Creek Eye Care & Eyewear Boutique our trusted team of eye doctors is committed to providing you with high-quality eye care, stylish frames, and personalized attention. We offer a wide variety of services, including:
Convenient Location, Extended Hours,
and Direct Billing
We understand that life is hectic. We want to help make it a little simpler, which is why our centrally-located practice offers extended hours on Mondays and Saturdays. We're also happy to directly bill most major insurance companies on your behalf. And on top of all that? We've got plenty of free parking. Stoney Creek Eye Care & Eyewear Boutique will always do whatever we can to make your life a little easier, located in the Health Science Building.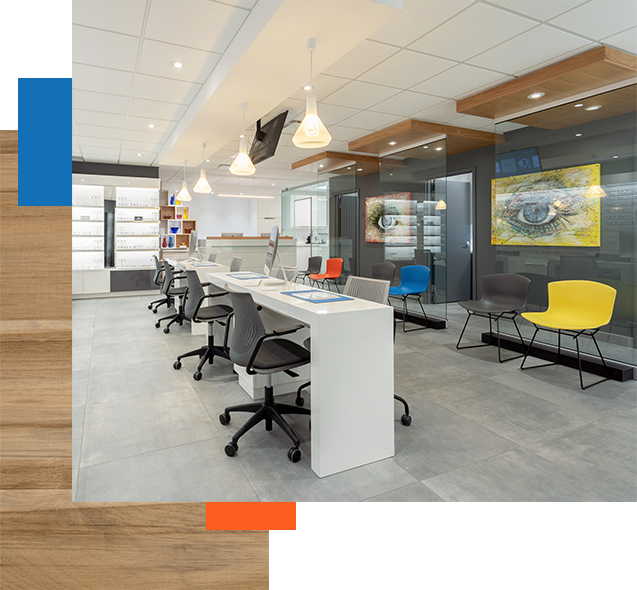 Stoney Creek Eye Care & Eyewear Boutique
15 Mountain Ave S #110

Stoney Creek,

ON

L8G 2V6
Clinic Hours
Monday

9:00 AM - 6:00 PM

Tuesday

9:00 AM - 6:00 PM

Wednesday

9:00 AM - 6:00 PM

Thursday

9:00 AM - 6:00 PM

Friday

10:00 AM - 5:00 PM

Saturday

8:00 AM - 1:00 PM

Sunday

Closed