Quality Eye Exams for a Better Quality of Life
Stoney Creek Eye Care & Eyewear Boutique wants to make your life better through excellent vision care. We offer unbelievably thorough eye exams using advanced diagnostic and imaging technology, giving us the most complete representation of your visual and ocular health.
Your comfort and peace of mind are a huge priority for us, so we'll always take the time to answer any questions you might have and address your concerns. Request an appointment for your next eye exam.
Advanced Eye Exams for Advanced Diagnosis & Care
We use the latest eye care technology to help you get the best eye care possible. Using this advanced equipment helps us diagnose vision problems and eye disease sooner.
OCT Imaging
Optical coherence tomography, or OCT, is an advanced digital imaging technique used as part of a comprehensive modern eye exam. OCT imaging takes cross-section photos of your retina, allowing your optometrist to see details of the surface of the retina as well as the retina's distinct layers. It also allows a detailed assessment of the optic nerve. With this information, your optometrist can assess your retinal health and diagnose eye diseases like age-related macular degeneration, glaucoma, diabetic retinopathy, as well as many other ocular pathologies. In some cases, it can even help diagnose diseases like age-related macular degeneration and glaucoma in their early stages, allowing for more effective and successful treatment.
Digital Imaging
Using an SL-D701 Slit Lamp with a built-in camera, your optometrist can take a photo or video of your eye and its structures. It gives an up-close look of what's happening on your eye. Your optometrist can use this information to help diagnose dry eye, help with emergency eye care, and diagnose and digitally document many other routine ocular conditions.
Automated Phoropter
A phoropter is the device your optometrist uses to measure your prescription by having you look through lenses of varying powers. The automated phoropter is often faster than a manual phoropter. It also allows your optometrist to demonstrate changes to your prescription in a more efficient way. This improves the patient experience and allows your optometrist to spend more time explaining the overall examination results and prescribing more customized solutions.
When Do I Need an Eye Exam?
Everybody needs regular eye exams. But how often do you need one? Well, that depends on a lot of different factors, including your age.
Adults
The Canadian Association of Optometrists recommends adults between the ages of 20 and 64 have their eyes examined at least every two years.
Remember that these guidelines are designed for adults at low-risk of eye disease or complications. Your optometrist is the best person to tell you how often you need an eye exam.
Seniors
The Canadian Association of Optometrists recommends that anyone aged 65 or older have their eyes examined at least once a year.
Remember that this guideline is designed for seniors at low-risk of eye disease or complications. Your optometrist is the best person to tell you how often you need an eye exam.
Why Are Eye Exams so Important?
Your eyes will undergo a lot of changes throughout your life. Perfectly normal changes like presbyopia and cataracts will eventually affect your vision. Seeing your optometrist for regular eye exams helps you stay on top of these changes to make sure you have the right prescription for your current visual needs.
Other times, the eyes can change unexpectedly; sustaining damage and losing vision so slowly, you may not even notice it. With regular eye exams, we can use advanced testing methods to evaluate your vision as well as your ocular health.
We'll be able to see even the slightest changes in your eyes, detecting serious eye diseases long before you may notice any vision loss. Regular eye exams give us a better chance of getting ahead of disease, keeping you seeing clearly.
At Stoney Creek Eye Care & Eyewear Boutique our trusted team of eye doctors is committed to providing you with high-quality eye care, stylish frames, and personalized attention. We offer a wide variety of services, including:
Convenient Location, Extended Hours,
and Direct Billing
We understand that life is hectic. We want to help make it a little simpler, which is why our centrally-located practice offers extended hours on Mondays and Saturdays. We're also happy to directly bill most major insurance companies on your behalf. And on top of all that? We've got plenty of free parking. Stoney Creek Eye Care & Eyewear Boutique will always do whatever we can to make your life a little easier, located in the Health Science Building.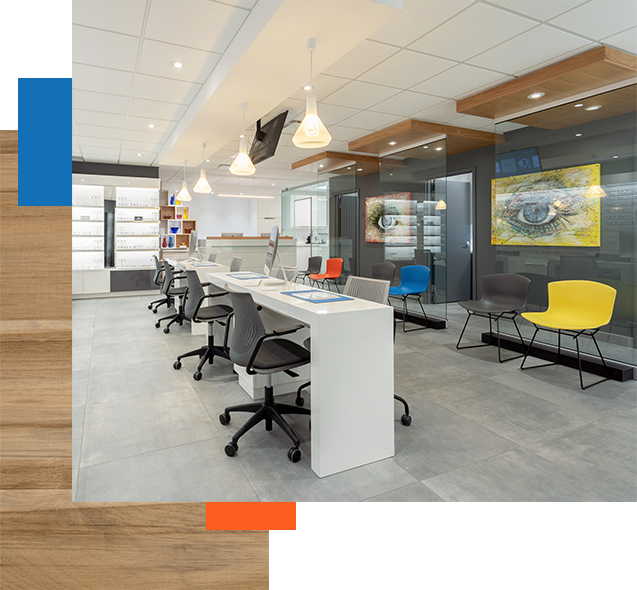 Stoney Creek Eye Care & Eyewear Boutique
15 Mountain Ave S #110

Stoney Creek,

ON

L8G 2V6
Clinic Hours
Monday

9:00 AM - 6:00 PM

Tuesday

9:00 AM - 6:00 PM

Wednesday

9:00 AM - 6:00 PM

Thursday

9:00 AM - 6:00 PM

Friday

10:00 AM - 5:00 PM

Saturday

8:00 AM - 1:00 PM

Sunday

Closed