Providing Relief for Dry Eye Symptoms
The Canadian National Institute for the Blind estimates that roughly 30% of Canadians suffer from symptoms related to dry eyes. These symptoms are irritating and disruptive, and while you might realize something's wrong, you may not actually be able to pinpoint that this discomfort comes from dry eyes.
Our conscientious doctors at Stoney Creek Eye Care & Eyewear Boutique, with our progressive approach and highly advanced technology, are well equipped to diagnose and relieve your case of dry eyes. Request an appointment to find relief from your dry eye symptoms.
What are Dry Eyes?
As the name indicates, dry eyes is a chronic condition where the eyes don't get the moisture they need to keep them clear, protected, and lubricated. Our eyes are lubricated by a thin layer of tears which is called the tear film. This tear film is made up of 3 main components; A mucus layer (closest to the eyes), an aqueous (water layer), and a lipid (oil) layer. Dry eye disease occurs when there is an instability in the tear film, which can lead to ocular surface inflammation and the ocular symptoms of dry eye. Dry eye disease typically stems from one of two basic issues (although there can be an overlap) :
Aqueous Deficient Dry Eye
This is when the lacrimal glands don't produce enough of the aqueous component of the tear film. The aqueous layer is usually the thickest part of the tear film and when the aqueous volume is low, this can lead to dry eye symptoms. Aqueous deficient dry eye can be further divided into Sjogren Syndrome Dry Eye and Non-Sjogren Dry Eye.
Evaporative Dry Eye
For tears to be really effective, the tear film requires a thin layer of oil that floats on top, preventing the tears from evaporating too quickly. This oil is called meibum and comes from the meibomian glands in the eyelids.
Without enough meibum, the aqueous layer of the tears evaporates, and the eye starts to feel dry and uncomfortable. This condition is what's called evaporative dry eye.
Symptoms of Dry Eyes
Symptoms of dry eyes can include:
A dry, gritty sensation
Periods of excessive tearing
Blurry or fluctuating vision
Sensitivity to light
Stringy discharge
Redness
Glare or halos around lights
Eye fatigue
Sensation of a foreign body in the eye
Diagnosing Dry Eye
If you're suffering from dry eye, we can do a complete dry eye workup exam. We'll discuss your lifestyle and medical history, as factors like computer use and certain medical conditions can increase your risk of dry eye. Then, we'll use a variety of diagnostic tools to assess what's causing your dry eyes so we can find the right treatment.
Treating Dry Eye
At Stoney Creek Eye Care and Eye Wear Boutique, we offer a variety of treatments to alleviate your dry eye symptoms and treat the condition at its source. Our optometrists will work with you to help find sustainable, lasting relief. Some of the treatments available to us include:
Dry Eye Products
Did you know you can purchase dry eye treatments through our online store?
What Is Meibomian Gland Dysfunction?
Meibomian gland dysfunction (contributing to evaporative dry eye) is considered the leading cause of dry eye disease.
The meibomian glands are located in the upper and lower eyelids and produce the oil (or meibum) which is a very important part of our tear film. We have about 25-40 meibomian glands in the upper lid and 20-30 in the lower lid.
Meibomian gland dysfunction (MGD) occurs when the quality or quantity of the meibum secreted is compromised. This may be due to a blockage at the opening of the glands or due to hardening of the meibum in the glands. This leads to evaporative dry eyes and all the symptoms associated with it. MGD is a very common condition and it is estimated that 70% of patients over the age of 60 have some form of MGD.
Chronic meibomian gland dysfunction can eventually lead to slow, irreversible damage to some or all of the meibomian glands which results in an increase in chronic dry eye symptoms. Your optometrist can assess the quality and quantity of meibum secretions using a slit lamp and gentle pressure on the glands. With meibography, your optometrist can determine the extent of damage to the meibomian glands. MGD treatment is aimed at not only providing relief from symptoms but also improving the functioning of the glands and protecting the remaining healthy glands.
In-office treatments can kick start the improvement to the meibomian gland functioning in moderate to severe MGD – this is usually followed with at home therapy for maintenance. For mild to moderate cases, at home therapies are often quite effective. Short term prescription medications may also be prescribed by your optometrist.
At Stoney Creek Eye Care & Eyewear Boutique our trusted team of eye doctors is committed to providing you with high-quality eye care, stylish frames, and personalized attention. We offer a wide variety of services, including:
Convenient Location, Extended Hours,
and Direct Billing
We understand that life is hectic. We want to help make it a little simpler, which is why our centrally-located practice offers extended hours on Mondays and Saturdays. We're also happy to directly bill most major insurance companies on your behalf. And on top of all that? We've got plenty of free parking. Stoney Creek Eye Care & Eyewear Boutique will always do whatever we can to make your life a little easier, located in the Health Science Building.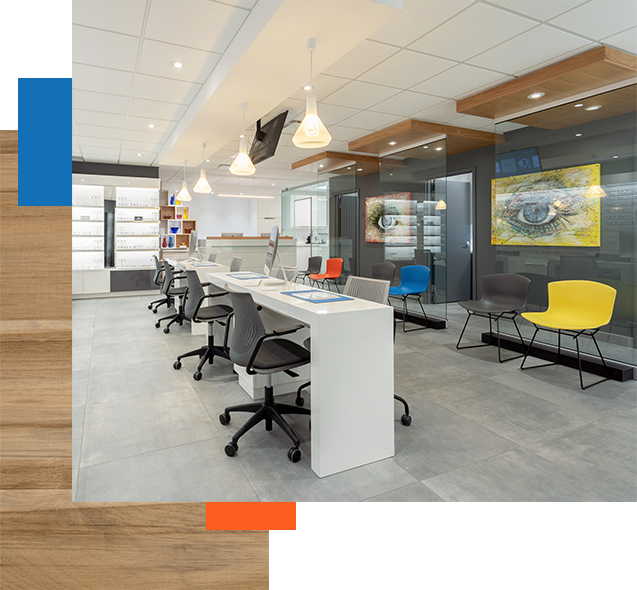 Stoney Creek Eye Care & Eyewear Boutique
15 Mountain Ave S #110

Stoney Creek,

ON

L8G 2V6
Clinic Hours
Monday

9:00 AM - 6:00 PM

Tuesday

9:00 AM - 6:00 PM

Wednesday

9:00 AM - 6:00 PM

Thursday

9:00 AM - 6:00 PM

Friday

10:00 AM - 5:00 PM

Saturday

8:00 AM - 1:00 PM

Sunday

Closed