Blepharitis is an uncomfortable and frustrating condition that is caused by chronic, inflammatory disease of the eyelids caused by an overgrowth of normal bacteria that live along the lid and at the base of the eyelashes. These bacteria can create a biofilm on your eyelids that interferes with the microbial flora that naturally exists on your eyelids.
You can get blepharitis at any age, but the prevalence increases with age since, as we get older, we make fewer natural antibodies in our tears. There are 2 advanced in-office treatments for dry eyes caused by Blepharitis, and we'll discuss the benefits and limitations of both: BlephEx and ZEST.
What Is Blepharitis?
Blepharitis is a very common eye condition. Over 50% of all patients suffer from some type of eyelid symptoms associated with insufficient eyelid hygiene, which can lead to blepharitis. While it can be uncomfortable, rest assured that it is not contagious. While blepharitis may not completely go away, managing your symptoms is achievable.
With blepharitis, the overgrowth of bacteria and demodex that causes crusting along the eyelid also creates a biofilm. Biofilms can contain bacterial exotoxins that can wreak havoc on the eyes. And the sugary nature of the biofilm allows even more bacteria to cause many blepharitis' symptoms.
Eventually, due to the inflammatory nature of exotoxins, the eyes will suffer from chronic inflammation. The inflammation can then affect structures on and around the eye, namely, the meibomian (oil) glands in the eyelids, the tear film, and the cornea.
What Does Blepharitis Look Like?
Blepharitis may be invisible to the naked eye. Under high magnification using a slit lamp biomicrocope, your optometrist would be able to detect it. Bacterial blepharitis may present with crusty, dandruff like flakes around your eyelashes. Demodex is a microscopic mite that is commonly found on our skin and around our eyelid margins. It is present in roughly one third of children, about half of adults and in about two thirds of the elderly population. Demodex is also a very common cause of blepharitis. Demodex blepharitis presents with more gelatinous, cylindrical type collarettes around the base of the eyelashes. There can also be localized inflammation of the eyelash follicles and eyelid margins. You may not be able to see any of this looking in the mirror as this is often happening at a microscopic level.
What Are the Symptoms of Blepharitis?
Common symptoms of blepharitis can include:
Feeling like there's something in your eye (Foreign Body Sensation)
Often feeling like your eyes are dry
A burning or stinging sensation in your eyes
Watery eyes
Itchy eyes and eyelids
Light sensitivity
Red eyes
Swollen eyes or eyelids
Foamy tears
Tears with bubbles in them
Waking up with crusty eyelids or eyelashes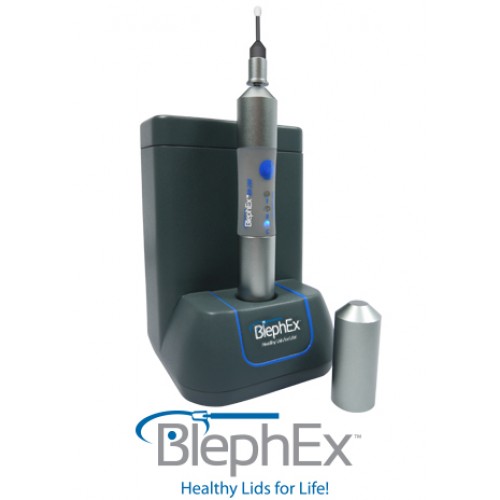 What Other Issues Can Blepharitis Cause?
Blepharitis is an often uncomfortable condition that can lead to several other issues. These issues may appear singly, or in tandem. These can include:
Blurry vision: The vision of the person affected may start to blur on a consistent basis
Problems with eyelashes: Eyelashes will fall out or grow in the wrong direction
Cornea damage: If lashes grow in the wrong direction, it can cause an abrasion of the cornea
Internal hordeolum or Styes: Red and painful bump on eyelids, usually caused by infected meibomian (oil) glands
Chalazion: Hard but painless lump on the eyelid, caused by oil glands that are blocked (can happen after a stye)
Dry eye: The tear film that protects the surface of your eye gets destabilized by clogged meibomian (oil) glands and the inflammation that is caused by bacteria and demodex
Chronic red eye: The whites of your eye can appear red consistently (due to chronic inflammation)
In the past, the main treatment involved regular at-home eyelid hygiene using lid wipes and warm compresses. Recent technology like BlephEx and ZEST can help those that suffer from blepharitis find relief when simple at-home lid care is not enough.
BlephEx
The latest treatment option for blepharitis is BlephEx, a procedure that is performed by eye care practitioners. This allows clinicians to take a more hands-on approach in treating blepharitis, rather than relying solely on the patient's ability to perform home lid scrubs that may only be partially effective. With BlephEx, clinicians can effectively remove scurf and bacterial debris, which are the primary causes of inflammatory lid disease.
What Is BlephEx?
BlephEx is an in-office treatment using modern technology to exfoliate and cleanse the biofilm and crust from the inner margins of the eyes.
This handheld device removes excess bacteria, biofilm, and bacterial exotoxins quickly with minimal discomfort—some patients even say that the process tickles!
How Does BlephEx Work?
For your comfort, numbing drops are placed in each eye prior to treatment. Then the BlephEx handpiece precisely spins a soft, disposable, medical-grade micro-sponge tip. This tip is run along the edge of your eyelids and lashes and removes accumulated bacterial biofilm, leaving your eyelids cleaner, exfoliated, and healthier.
The entire procedure only takes a few minutes. The eyes are rinsed well afterwards, and then you can get on with your day. For ultimate effectiveness, the BlephEx treatment should be repeated at intervals recommended by your optometrist.
ZEST
ZEST is a relatively new treatment for blepharitis. It is similar to Blephex but tends to be a little more comfortable for the patient and just as effective for treating blepharitis.
What Is ZEST?
ZEST (Zocular Eyelid System Treatment) is a gel treatment that is formulated with a refined extract of okra. Okra is an edible green seed pod that is also a powerful cleanser that can even remove Demodex mites.
This ZEST gel is gentle to use around the eye but powerful enough to provide a deep cleaning to lift and remove biofilm, bacteria, unwanted oil, debris, and residue along the eyelids. It also helps to calm and soothe inflammation caused by dry eye and blepharitis.
How Does ZEST Work?
Zest is an in-office procedure that is usually performed by an optometrist or optometric assistant. It is a procedure that involves applying the gel to the eyelid margins and lashes with a sterile foam swab. The optometrist then uses the swab and gel to manually deep clean the eyelid and eyelash area. Following the deep cleansing procedure, the gel is rinsed off with a saline solution.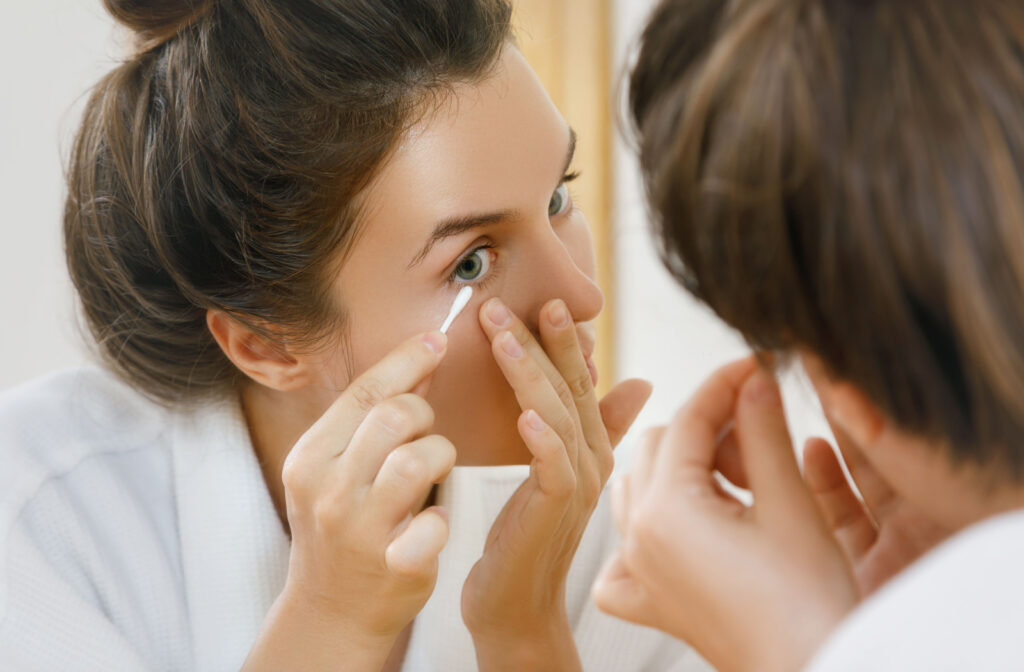 Cleaning the eyelid margins can also unclog the meibomian gland opening which can help release oils onto the eye which are required for a healthy tear film to reduce dry eye symptoms.
This treatment is generally tolerated by patients that tend to be more sensitive around their eyes. The optometrist can be gentle or more aggressive during the treatment depending on the amount of build-up and effort required. Zest is a very comfortable and relaxing treatment and leaves the eyelids and eyelashes feeling refreshed and rejuvenated. The treatment can be repeated as required or as recommended by your optometrist.
Your optometrist may recommend at-home lid hygiene for maintenance following the in-office procedures. This may include specialized lid wipes, hypochlorous spray, and/or eyelid warming masks. This will prolong the effectiveness of the procedure and help control the blepharitis.
Blepharitis and Dry Eyes
Blepharitis and dry eyes are often present at the same time. Dry eye symptoms can also be very similar to blepharitis symptoms. Blepharitis can often lead to dry eyes as it can lead to blocked and inflamed meibomian glands which can start the vicious dry eye cycle. If your symptoms are mainly due to chronic dry eyes, effective in-office treatments such as Intense Regulated Pulsed Light treatment may be more suitable for your symptoms. Your optometrist can perform a dry eye workup visit to determine whether your symptoms are due to blepharitis, chronic dry eyes or a combination and come up with a treatment plan for long term relief.
Next Steps
If you're living with blepharitis or chronic dry eyes and are looking for relief, we're here to help. The team at Stoney Creek Eye Care is here to provide personalized treatment plans to help you see clearly and comfortably. Request a consultation with Stoney Creek Eye Care for an eye exam and together we can explore the opportunity to treat blepharitis and/or chronic dry eyes.