I have written about blepharitis before. It's an uncomfortable and unsightly inflammation of the eyelids. The frustration of blepharitis is only made worse by the fact that it's a chronic condition; there is no cure.
The good news is that effective new treatments are emerging all the time, one of the most promising of which is BlephEx.
As an optometrist, it's my duty to help people find relief from irritating and potentially dangerous eye conditions. The sheer volume of patients who seem to think they just have to live with their symptoms is staggering. That's why I'd like to take you through an explanation of BlephEx. My hope is that, in reading this article, you might be empowered with the knowledge that relief from your symptoms actually does exist.
A Quick Note About Dry Eye & Blepharitis
Some people have never even heard of blepharitis, but most patients are familiar with dry eye disease. These two conditions are related, although there is some debate as to how they're related.
Because blepharitis and dry eye are closely linked, BlephEx is sometimes used as a treatment for dry eye as well as blepharitis. This treatment can help remove blockages from the meibomian glands, which alter your tear quality and result in dry eye symptoms. All of this to say: BlephEx may have been designed to treat blepharitis, but it can also treat dry eye disease.
What is BlephEx?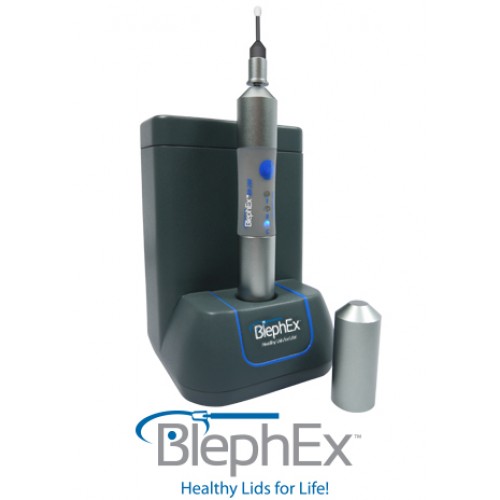 BlephEx is an in-office treatment that's typically performed by your optometrist. The meibomian gland blockages and eyelid inflammation associated with blepharitis often stem from bacteria and crusty debris developing at the base of your lashes on your upper and lower lids.
The idea behind BlephEx is to gently exfoliate the eyelids and lashlines, sloughing off any build-up without harming the eye.
How Does BlephEx Work?
BlephEx is a handheld device which features a very small medical-grade sponge on the end in a similar shape to a cotton swab. This sponge spins, adding more cleaning power without compromising the precision needed to complete the treatment.
Your optometrist will carefully run the sponge along your eyelids and lashlines, wiping away debris as they do. The treatment should only take about 20-30 minutes to complete. Most patients will only need to have the procedure done once a year.
FAQ
Is BlephEx Applicable for Insurance Coverage or Reimbursement?
While it's highly unlikely that your insurance plan covers BlephEx, you may be able to use part of your health spending account to cover the cost of treatment if you have one. I would encourage you to contact your insurance provider to find out their official stance and what your plan allows.
Is BlephEx Painful or Uncomfortable?
In my experience, patients say BlephEx produces a sort of tickling sensation. None of my patients have complained of pain or serious discomfort during their treatment.
What Are the Side Effects of BlephEx?
Almost every medical treatment has the potential for some side effects. But as far as BlephEx goes, the side effects are negligible. You may find that your eyelids are a little bit red or irritated, but those side effects should subside within the next 24 hours.
Is BlephEx Suitable for Children or Seniors?
BlephEx is theoretically safe and effective for patients of all ages. Having said that, there is no one-size-fits-all treatment. Your optometrist will approach blepharitis on a case-by-case basis. They will not recommend BlephEx unless the treatment is a good fit for the patient's unique case.
Don't Ignore Your Symptoms
Whether it's itchy and irritated eyes or chronic back pain, you should never just dismiss any sort of reoccurring symptom as an uncomfortable part of your reality. Bring your experiences up with the appropriate doctor. There is a good chance that there are highly-specialized treatments (like BlephEx) available to alleviate your symptoms.