Dry eye disease can irritate your eyes, but with the right treatment, your optometrist can help you find relief. Common dry eye treatments include intense pulsed light and LipiFlow, but which option is better?
Continue reading to learn more about these treatments, including which is the better option.
What is Dry Eye Disease?
Dry eye disease is a common condition where your tears can't effectively lubricate your eyes. Your tears help keep the surface of your eye clean and free of debris, but complications can arise and affect the stability of your tear film.
Tear instability can result in several irritating symptoms, including:
Eyes that sting or burn
Stringy mucus around the eyes
Light sensitivity
Eye redness
Foreign object sensation
Watery eyes
Blurry vision
Eye fatigue
These symptoms can occur for several reasons, but there are 2 common types of this condition: aqueous deficient dry eye and evaporative dry eye. If you suffer from chronic dry eyes, meibomian gland dysfunction may be a factor.
Meibomian Gland Dysfunction
Meibomian gland dysfunction is a condition affecting the glands in your eyelids. Your meibomian glands create the oil, called meibum, that forms one of the 3 layers of your tear film. This oil prevents your eyes from drying out too quickly.
The most common reason for this condition developing is the blockage of these glands. When your meibomian glands block, it can result in eyelid inflammation and dry eyes.
Chronic dry eyes rarely resolve on their own, but your eye doctor can help. One of the ways your optometrist may treat this condition is with intense pulsed light or LipiFlow. Let's look at both of these treatments and their benefits and drawbacks.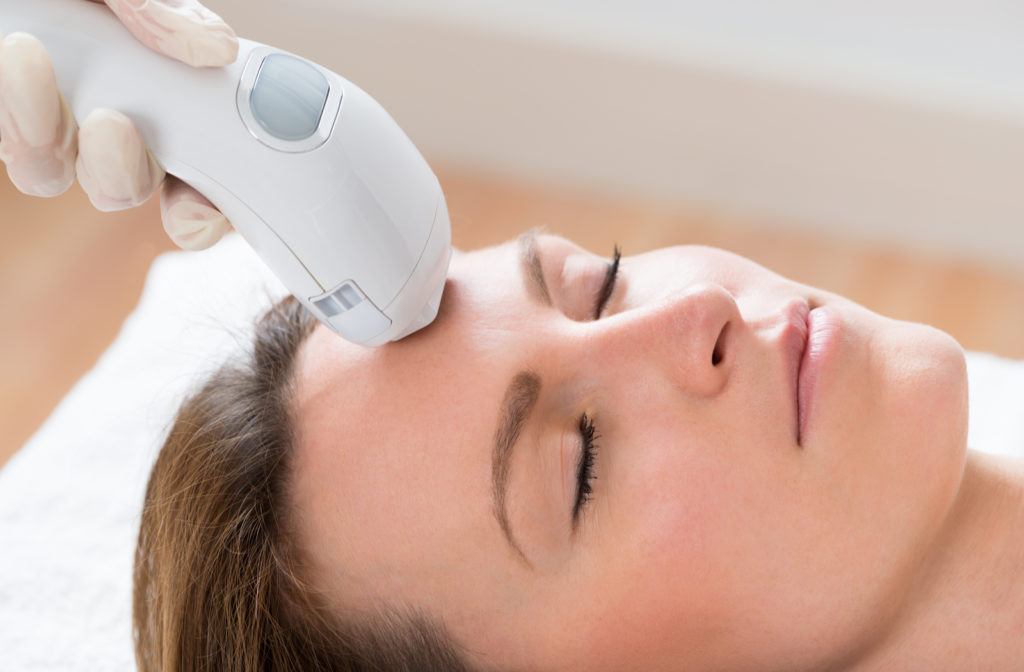 What is Intense Pulsed Light (IPL) for Dry Eye?
Intense pulsed light (IPL) therapy can help treat meibomian gland dysfunction, a common cause of most chronic dry eye symptoms. Originally designed for cosmetic purposes, this treatment can benefit your eyes.
IPL releases wavelengths of light to warm the meibomian glands and remove blockages to restore tear functionality. A previous study on IPL discovered it improves tear breakup time in 87% of patients.
How Does It Work?
IPL uses a scattered pulse of light to treat inflammation within the eye. This pulsing light warms the eyelids to treat clogged or blocked glands. The release of these blockages helps prevent your tears from evaporating as quickly.
Pros & Cons
There are several benefits to IPL. The treatment is anti-inflammatory and can effectively remove the blockages in your meibomian glands. Its effects are long-lasting, and the treatment is relatively painless.
The newer generation IPL machines such the E>Eye device have been optimized specifically for dry eye disease and use Intense Regulated Pulsed Light (IRPL) and as such, are very effective at improving the quality of the tear film and treating dry eyes. The safety profile is also extremely high with the newer devices. The treatment is very comfortable and any discomfort following the treatment is rare and temporary.
IPL or IRPL requires 3-4 sessions to reach optimal results. Following this, the meibomian glands will be functioning much more efficiently, and patients usually report a marked improvement in their dry eye symptoms.
Some people may find the number of required treatments a drawback of IPL. On average, 4 treatments will result in noticeable improvement.
What is LipiFlow?
LipiFlow is also called thermal pulsation. It can treat meibomian gland dysfunction-related evaporative dry eye disease. This treatment uses heat and massage to warm and express the meibomian glands to improve tear functionality.
How Does It Work?
LipiFlow has 2 main components. The first is a small piece looking similar to a contact lens that heats your eyelids. The second component connects to a shield and sits outside the eye to help express oil from your glands.
Your optometrist will administer a mild anesthetic to increase your comfort. Afterwards, they'll fit the LipiFlow device into place. The small contact-like lens piece emits heat to your eyelids while protecting your eye, helping to warm the oil inside of your meibomian glands.
After warming the glands, the second piece of the treatment device gently squeezes the eyelids to release the clogged oil. This treatment takes approximately 12 minutes.
Pros & Cons
One of the main benefits of LipiFlow is that the system is automated and effective. It can provide long-term relief of dry eye symptoms. However, there isn't a guarantee you'll see improvement.
One study found that 20% of patients didn't experience any improvements after using LipiFlow. This treatment may not be beneficial if you have severe dry eye disease.
There is always the potential of side effects when receiving this treatment, such as irritation or hemorrhaging around the eyelids.
Intense Pulsed Light vs LipiFlow: Which is Better?
Both IPL and LipiFlow have pros and cons, but is there a better treatment option? Your optometrist can recommend the best option for your needs, but IPL may be the better choice.
IPL is an effective treatment for almost everyone. It can reduce inflammation and restore functionality to your tear film.
LipiFlow can be effective, but it may not be for you. Patients with moderate to severe dry eye symptoms may not benefit from this procedure. While this treatment may be beneficial, speak with your optometrist to determine your eligibility.
Dry eye disease can cause many irritating symptoms, but your optometrist can help you find relief. Whether treatment happens with IPL or another method, you don't need to live with dry eye disease.
If you have symptoms of dry eyes, contact your optometrist.