The world is taking more of an interest in eye health. Lately, issues like dry eye and digital eye strain have become a topic of mainstream discussion, which is excellent. But there are still plenty of common issues that the average person has never heard of. One of the ones that I've made a focus at our practice is blepharitis.
There aren't any statistics on blepharitis in Canada, but in an American survey, optometrists reported that 47 percent of their patients had some symptoms of blepharitis at some point. Considering how common the condition is, you would think that more patients would have heard of it.
Getting to know and understand blepharitis will not just help you to recognize its symptoms, but to take the necessary steps to reduce and prevent flare-ups.
What Is Blepharitis & Why Does It Matter to Me?
So what exactly is blepharitis? To put it really simply, it's inflammation of the eyelids. But there is also quite a bit more to it.
Blepharitis often causes the eyelids to become sore, red, flaky, and crusty, particularly along the lash line. This inflammation is also linked to chronic dry eye, however, it's unclear whether dry eye causes blepharitis or blepharitis causes dry eye.
In order to function effectively, your tears need an oil called meibum, which is expressed from the meibomian glands. Inflammation and a build-up of biofilm (which I'll get into a little later on) can block the meibomian glands, which impacts your tears' ability to hydrate and lubricate your eye.
Ultimately, it doesn't matter all that much which condition causes the other. The point is that the two are definitely related. Considering that dry eye is such a wide-spread issue, it's important that patients are aware of blepharitis and its link to dry eye disease.
Causes
Blepharitis can stem from a wide range of sources, including dry eye and meibomian gland dysfunction like I described earlier. However, there are other causes as well, none of which are particularly pleasant. Fungal and bacterial infections of the eyelid or parasitic eyelash mites can result in a nasty case of blepharitis as well.
I also mentioned biofilm before. What is that? Well, the edges of your lashline are covered in microscopic bacteria which feed on dead skin cells. Everyone has them, and in low quantities, they are not a problem. The problem develops when these bacteria multiply too much.
The bacteria create something called a biofilm, which is sort of like the plaque that develops on your teeth. The biofilm feeds parasitic eyelash mites, allowing them to infest your lashline, which can then cause blepharitis.
In addition to acting as food for mites, the biofilm results in inflammation of the meibomian glands, which prevents them from secreting the oil your tears need to keep your eyes hydrated.
Symptoms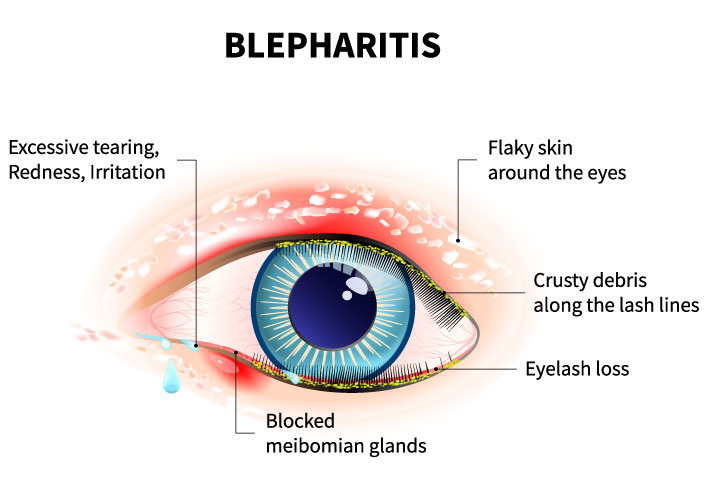 Even though you may not recognize blepharitis for what it is, you are unlikely to miss its tell-tale symptoms. If you are suffering from blepharitis, you may experience:
Crusty flakes of debris along your lashlines
A burning or stinging sensation
Loss of eyelashes
Watery eyes
Itchy eyelids
The sensation that something is stuck in your eye
Discomfort wearing contact lenses
Gritty, sandy feeling
Blepharitis FAQs
Can Blepharitis Damage My Eye?
It's not particularly common for blepharitis to lead to permanent and severe eye damage. However, it can lead to some complications and result in other eye conditions. For example, untreated blepharitis may lead to chronic pink eye, styes, and even ulcers or sores on your cornea. It's essential to see your optometrist when you first notice symptoms so you can prevent these conditions or other potential damage.
Is Blepharitis Curable?
Blepharitis is a chronic condition, so as of right now, there is no cure. Having said that, there are plenty of things you can do to reduce and prevent flare-ups.
One way you can help control blepharitis through eye hygiene. Most women who wear makeup clean their eyelids at least once a day, but a lot of men never wash their faces, let alone their eyelids. It's important that you gently scrub your eyelids with a mild cleanser twice every day to prevent biofilm build-up.
There are specially-formulated eyelid scrubs or gels that can be used to clean lashes and lids. I recommend preservative-free products because they are more gentle on the eyes.
In addition to home care, your optometrist can prescribe medications and treatments to help alleviate your blepharitis symptoms.
What Are the Latest Treatments for Blepharitis?
Treatments for blepharitis range from antibacterial and anti-inflammatory eyedrops and ointments to oral antibiotics in some severe cases. But I think one of the most exciting recent advancements in treating blepharitis is called BlephEx.
BlephEx is an in-office treatment that uses a small handheld device to gently clear away dead skin cells, debris, and biofilm from the eyelids and lash line. My practice has been using BlephEx for less than a year, but the response has been overwhelmingly positive. And of course, we're not the first to use it. This treatment has been gaining popularity since it was first developed in 2013 and has produced some great results.
Dealing With Eye Inflammation
We have talked about what you can do to prevent and manage blepharitis flare-ups. But how do you handle the symptoms when your eyes are already inflamed? Well, first of all, it's important that you always follow your optometrist's instructions regarding treatment. Use ointments and medications as instructed and don't introduce any new treatments without discussing it with your doctor. Remember to maintain a good eye hygiene routine.
Mostly, it's best to leave your eye alone as much as possible. Touching your eyes can introduce additional germs and bacteria which won't help your flare-up. It may also exacerbate whatever symptoms you're dealing with.
Will Rubbing My Eyes Give Me Eye Bags?
Rubbing your eyes can feel great, especially when you're tired, your eyes feel dry, or it feels as if there's something caught in your eye. But as a general rule, rubbing your eyes is never a good idea.
Rubbing your eyes can lead to scratches on the cornea, an eye condition called keratoconus, increased irritation, and, yes, dark circles or bags under your eyes. Particularly aggressive rubbing can damage blood vessels. As a result, blood leaks from the blood vessels and collects under your eyes, causing that dark discolouration.
Getting Ride of Eyelid Puffiness
Sometimes a cool, clean washcloth can help get rid of inflammation. Beyond that, it's best to consult a physician before trying anything else. Your eyes are very sensitive, and it's important that we determine what's causing the inflammation before administering any course of treatment.
Final Thoughts to Keep in Mind
Blepharitis certainly isn't pleasant, but it doesn't have to alter your day-to-day life too much. As long as you are keeping up with eyelid hygiene and following your optometrist's instructions, your blepharitis symptoms should be manageable and tolerable.