More and more Canadians are requiring vision correction. In fact, nearly 74% of people in Canada need eyeglasses, contacts or laser eye surgery to see properly.
Whether or not you suffer from vision problems, it is essential to get an eye exam yearly. If you do suffer from vision problems, eye exams are even more crucial.
During an eye exam, your doctor will check the overall health of your eye and update your prescription. If you wear glasses currently or think you may need vision correction, you might wonder how your optometrist determines your prescription.
Keep reading to learn everything you need to know about how your optometrist measures your prescription, how to read your prescription yourself and why getting your prescription updated is essential.
Why Do I Need a Prescription?
To put it simply, eyeglasses and contact lenses require a prescription because a measurable change is needed to improve your eyesight. During an eye exam, your doctor will evaluate your eyes, and based on this information; they will recommend corrective lenses. These corrective lenses will have a numerical value that relates to the curvature needed to correct your vision. This numerical value is your prescription.
Common Vision Problems that Require a Prescription
Refractive errors are the most common vision conditions that require a prescription. Refractive errors include:
Hyperopia or farsightedness is a visual condition in which distant objects are easier to see than near objects
Myopia or nearsightedness occurs when you can see near objects easily, but objects at a distance appear blurry
Astigmatism is when the surface of the eye (the cornea and lens) are not spherical and instead are shaped more like an American football. This can result in images being distorted at both near and far distances.
How Eyeglasses & Contacts Work to Correct Your Vision
To understand how eyeglasses and contact lenses correct your vision, a brief understanding of how the eyes work may be helpful. The basic steps of vision are as follows:
If there is an issue with any of these steps, you may have trouble seeing correctly. A specific lens tailored to your needs can help correct your vision.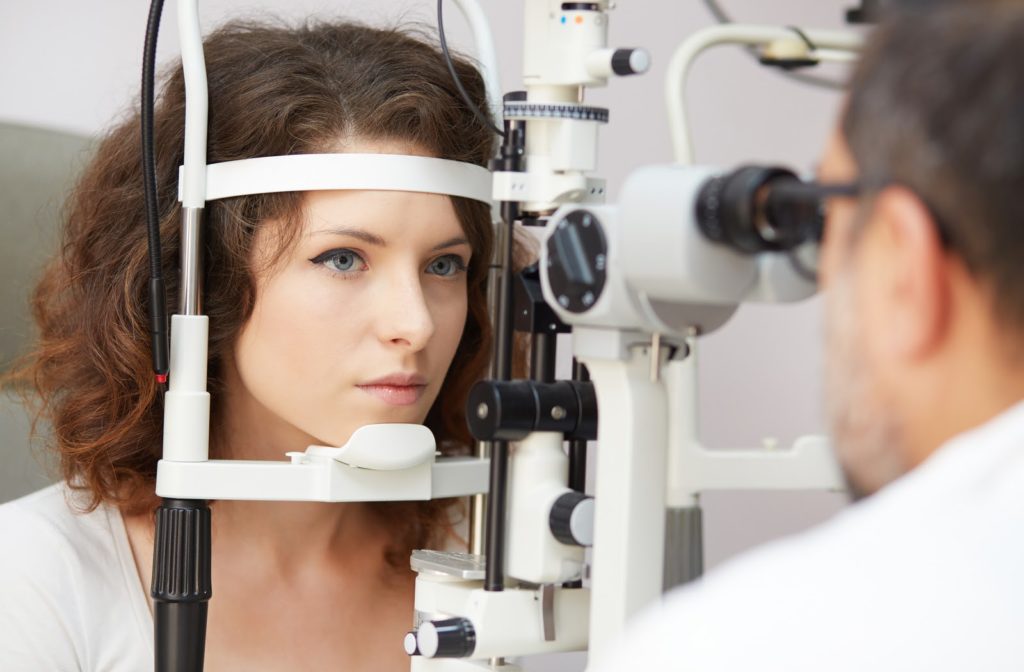 How is my Prescription Measured?
Your prescription is primarily measured through refraction tests. This can be done manually or with the use of technology such as autorefractors or autokeratometers.
Refraction Test
A refraction test is a test that your eye doctor uses to determine your exact eyeglass prescription.
Your optometrist will use an instrument called a phoropter during a refraction test, which tests your vision using multiple different lenses. With each new lens, your eye doctor will ask you questions to determine which lens helps you see more accurately.
As you continue to answer questions, your eye doctor will fine-tune the lens power until reaching a final eyeglass prescription.
Automated Tests
Your eye doctor also may use autorefractors or autokeratometers to estimate your eyeglass prescription automatically. This is usually used as a starting point. From there, your optometrist then refines the prescription using a phoropter.
Autorefraction is a relatively quick and straightforward procedure. Typically, three measurements are taken, which are then averaged to determine your prescription. You don't need to answer any questions during an autorefraction, so an average test takes about 10-15 seconds to perform.
Another automated test your optometrist may use is an auto keratometer. The test is similar to autorefraction, but it specifically measures the curvature of the cornea. This is called keratometry. This test can be used for contact lens fitting, to see if you're a good candidate for laser eye surgery, and to determine the amount of corneal astigmatism.
How Do I Read My Prescription?
If you need a prescription, you should know that your eyeglass prescription may be different from your contact lens prescription. This is because contact lenses sit directly on your eye whereas eyeglass lenses rest approximately 12 mm from your eye.
Your eye doctor will test for your eyeglass prescription during a regular comprehensive eye exam, but you may need a contact lens fitting and exam if you want to wear contacts.
Reading Your Eyeglass Prescription
When reading your prescription, the first abbreviations you will notice are the letters OD and OS. OD refers to your right eye, while OS refers to your left eye. If your prescription is the same for both eyes, your eye doctor may use the abbreviation OU.
The first number in a prescription is the spherical correction (the sphere), which measures how powerful the lens needs to be to correct either nearsightedness (noted with a minus sign "-") or farsightedness (noted with a plus sign "+").
The second number is the cylindrical correction (the cylinder) which is only needed if you have astigmatism.
The third number, the axis, determines the direction of the astigmatism in degrees. Again, this is only needed if you have astigmatism.
In addition to these numbers, your prescription may have other notes related to specific lens design or coatings to give you the most comfortable vision correction possible.
Reading Your Contacts Prescription
The main difference between your eyeglass prescription and your contact lens prescription is that for contacts you have two additional measurements: base curve and diameter.
Base curve is the number that indicates your contact lens' curvature, while diameter shows what size your contacts lenses must be to cover your cornea properly.
In addition to these measurements, your contact lens prescription may include:
Recommended brand
An expiration date
Corrective power which is the actual power needed in your lenses
How Often Should I Get My Prescription Measured?
For adults who require vision correction, The Canadian Association of Optometrists recommends getting an eye exam annually. If you have any questions or concerns regarding your prescription or overall eye health, contact us today or book an appointment.