About: Dr. Louis P. Bahoshy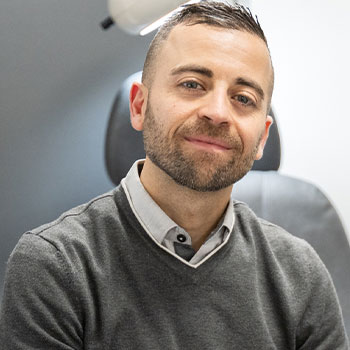 Dr. Bahoshy attended the University of Waterloo, where he graduated with an Honours Bachelor of Science Degree (B.Sc), as well as a Doctor of Optometry (OD) Degree.
As part of his optometry training, Dr. Bahoshy completed an externship at the prestigious Omni Eye Institute in Baltimore, gaining extensive experience in diagnosing and managing ocular health conditions. He worked alongside a pediatric ophthalmologist at their satellite location in White Marsh.
While in optometry school, Dr. Bahoshy spent two summers as a researcher at the world-renowned Centre for Contact Lens Research (CCLR) at the University of Waterloo, School of Optometry, learning about the latest in contact lens technology.
Dr. Bahoshy began practicing at Stoney Creek Eye Care (formerly known as Dueck Optometry) in 2001. In October 2017, Dr. Bahoshy became the clinic's new owner, continuing the commitment of serving Stoney Creek and the surrounding community.
Today, Dr. Bahoshy is an active member of the Ontario Association of Optometrists (OAO), the Canadian Association of Optometrists (CAO), and the Hamilton and District Society of Optometrists. He is also an affiliate doctor at TLC Laser Eye Centres.
When not seeing patients, Dr. Bahoshy enjoys swimming, going to the gym, and spending time with his wife Cynthia, and their two young boys, Pierre and Leo.
Posts by Dr. Louis P. Bahoshy :