It may surprise you to know how many Canadians live with dry eye syndrome (dry eye disease) and blepharitis.
Some people seek solutions to their symptoms by using artificial tears, prescription eye drops, vitamins, heated eye masks, and other treatments like intense pulsed light and hypochlorous acid.
Dry Eyes Are More Common Than You May Think
You don't have to live in the desert to experience dry eye symptoms. Around 30% of Canadians experience symptoms regularly.
Symptoms of dry eye include:
Stinging
Burning
Scratchiness
Discomfort
Redness
The quality of your tears may be affected. One symptom (which may sound strange) is excess tears that end up rolling down your face. If your eyes are producing a high-quality tear, they should mostly stay in your eye.
Healthy eyes maintain a balance of quality and quantity when it comes to tears. If you're constantly rubbing or itching your eyes, or if your blinking feels scratchy, you might have dry eyes.
Causes
Many parts of your eye are responsible for keeping them hydrated and lubricated. You have many small glands all around your eyelid that emit oils, mucous, and water to keep your eyes feeling fresh.
Dry eyes are caused by several issues:
Reduced tear production
Tear evaporation
Environmental factors like digital eye strain, heating and air conditioning, and poor air quality like dust, smoke, or chemicals can also contribute to dry eye.
Other risk factors for dry eye include:
Aging: The older we get, the dryer our eyes get
Gender: Women are more at risk for dry eyes
Some medications can affect tear production
Conditions like diabetes, arthritis, rosacea, and more
Long-term contact lens use
Recent laser eye surgery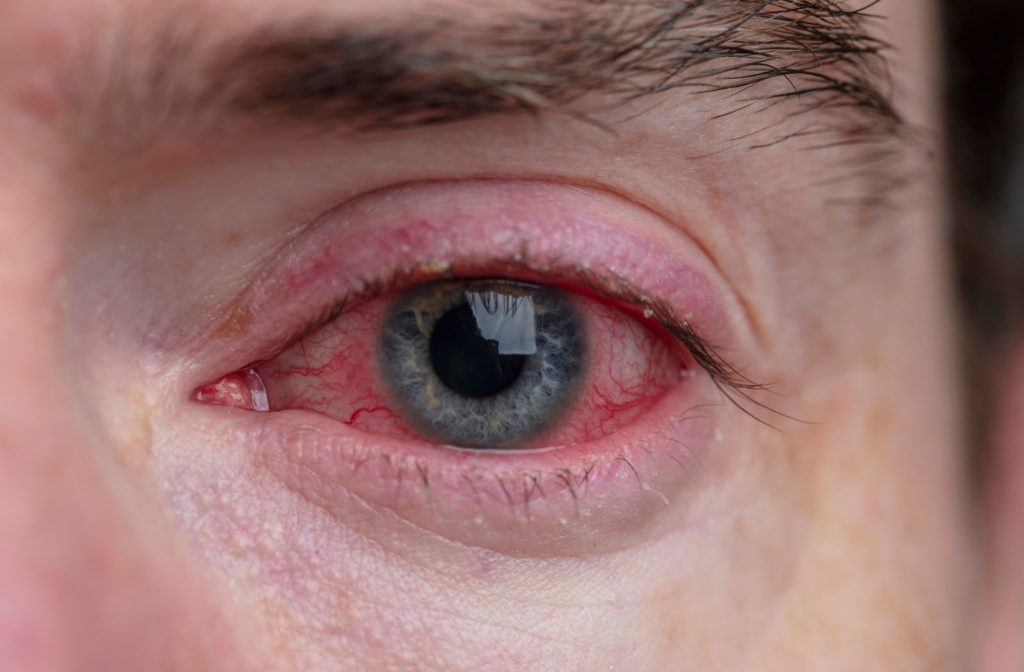 What Causes Blepharitis?
Blepharitis translates to "inflammation of the eyelids."
"Blepha" means eyelid, and "itis" means inflammation.
Typically associated with an overgrowth of bacteria along the eyelid and eyelashes, blepharitis is the inflammation of the oil glands in your eyelids.
Often, blepharitis is difficult to treat. Even when it is properly treated, it can come back repeatedly.
Blepharitis is characterized similarly to dry eye, but includes crusty debris or flakes at the base of the eyelashes and blurry vision that is temporarily solved with frequent blinking and cleansing.
If you have recurring blepharitis, you may also experience other issues with your eyes that should be treated.
When your oil glands get infected, this is called a hordeolum. This is a bacterial infection of the meibomian glands ( oil glands) and the eyelid is usually red, swollen and tender to the touch. A hordeolum can lead to a chalazion, which is a bump on the eyelid made up of hardened oils in the meibomian glands. Chalazia are usually painless and not tender to the touch. If your glands are irritated and inflamed, they can cause your eyelashes to grow in unnatural directions, which could lead to scratching your cornea. Before any of these symptoms persist, ensure you talk to your optometrist about what treatment options are available.
There are 2 main types of blepharitis: anterior and posterior.
Anterior Blepharitis
The outside of your eye can be affected by blepharitis.
Causes can include:
An overgrowth of staphylococcal bacteria that live around the eyelashes
Demodex mites, characterized by cylindrical dandruff at the base of the eyelashes
Scalp and eyebrow dandruff can cause seborrheic anterior blepharitis (an excessive discharge of sebum)
Posterior Blepharitis
Affecting the inner eyelid, posterior blepharitis is often caused by meibomian gland dysfunction, which prevents oil from being properly distributed to the eyelid.
Hypochlorous Acid Spray As a Blepharitis Treatment
Hypochlorous Acid (HOCl or HClO) might not have an appealing ring to it, but it is already existing within your immune system. When your body encounters bacteria, it naturally releases hypochlorous acid to fight off infection.
This natural disinfectant is used in many different ways in eye care, dentistry, wound care, and dermatology. It provides quick relief from dry eyes, styes, and red, itchy eyelids that may be related to dry eye, blepharitis, or meibomian gland dysfunction.
Doctors have known about the positive effects of hypochlorous acid for many years and have been using it to treat wounds as a disinfectant. The antiseptic and cleansing properties of hypochlorous acid can help clear up dry eye and blepharitis, especially when it is caused by bacteria.
In eye care, hypochlorous acid is used for the ongoing treatment of blepharitis and chronic dry eyes. Remember that blepharitis is caused by an overgrowth of bacteria around the eyelids. Hypochlorous Acid is a great natural antimicrobial agent and it works by significantly reducing the amount of bacteria around the eyelids and eyelashes. HOCL reduces the bacterial load around our eyes by over 90%. It also reduces inflammation due to bacteria around the eyes. When there is less bacteria around the eyes, blepharitis is well controlled and symptoms of chronic dry eyes are also improved. It has also been shown that hypochlorous acid is effective in the management of bacterial and viral conjunctivitis.
How to Treat Blepharitis and Dry Eyes With Hypochlorous Acid?
Commercially available hypochlorous acid used for eye care usually comes in a spray bottle. With the eyes closed, It can be simply sprayed directly onto the eyelashes. Alternatively, it can be sprayed onto a cotton pad and then gently spread along the eyelashes and eyelid margins. No need for excessive rubbing. You don't need to rub it or rinse it off. HOCL is very gentle. It is colourless and essentially odourless. There is no stinging or discomfort upon application and is generally very well tolerated by patients. It is a natural, gentle way to significantly reduce the bacteria on and around our eyelids. At 0.02%, the solution is safe for long-term daily use and is stable and pure without additives.
Find Your Solution
If you suffer from dry eye or blepharitis, or if you experience any symptoms, speak with your optometrist about what options are best for you. At Stoney Creek Eye Care, we use a variety of specialized products and treatments to provide you relief from your dry eye symptoms.
Regular eye exams are the best way to maintain optimal eye health. Your doctor will examine your sight, the health inside your eye, and around the outside.