It's no surprise that dry eye affects a great number of people. Too much time at the computer, dry weather conditions, wind, dust, smoke, and other factors can cause your eyes to feel dry and gritty.
But you don't have to live this way. There are many solutions available to help you treat your dry eye, including intense pulsed light (IPL) therapy.
It's understandable if this new term sounds futuristic. Although it is a fairly new technology, IPL has been providing great results for many people's dry eye symptoms and has been widely used to treat other issues.
Itchy, Scratchy, Gritty, Stinging Eyes
Let's get into the nitty-gritty. Dry eyes are uncomfortable!
The tears that lubricate our eyes are actually made up of three distinct layers: a mucus layer closest to our eyes, a middle aqueous (water) layer, and an outer lipid (oil) layer. Dry eyes can occur when there is a loss of balance between the three layers of the tear film.
Traditionally, dry eyes can be classified as aqueous deficient dry eyes or evaporative dry eyes. In aqueous deficient dry eyes, we are not producing enough of the water (aqueous) component. In evaporative dry eyes, the quantity and quality of the oil layer (meibum) is deficient.
It is thought that approximately 80–90% of all chronic dry eye cases involve some evaporative dry eye component
Numerous factors can cause dry eyes. Our eyes react to our environments and should be producing high-quality tears to continue lubricating our eyes.
But sometimes they don't. Sometimes the tiny glands in your eyes aren't producing the right amount of oils, or you have low-quality tears that don't adhere to the surface of your eye, or those tears evaporate easily.
Symptoms of dry eye:
Dry and gritty sensation
Excessive tears that won't stay on your eye
Occasional blurry vision that fluctuates when you blink
Light sensitivity and glare or halos around lights
Excessive discharge
Redness
Eye fatigue
Feeling like something is in your eye
There are many ways to treat dry eye symptoms. They range from using artificial tears and warm compresses to meibomian gland expression and intense pulsed light (IPL)
Your optometrist will be able to help you find a solution that works best for you.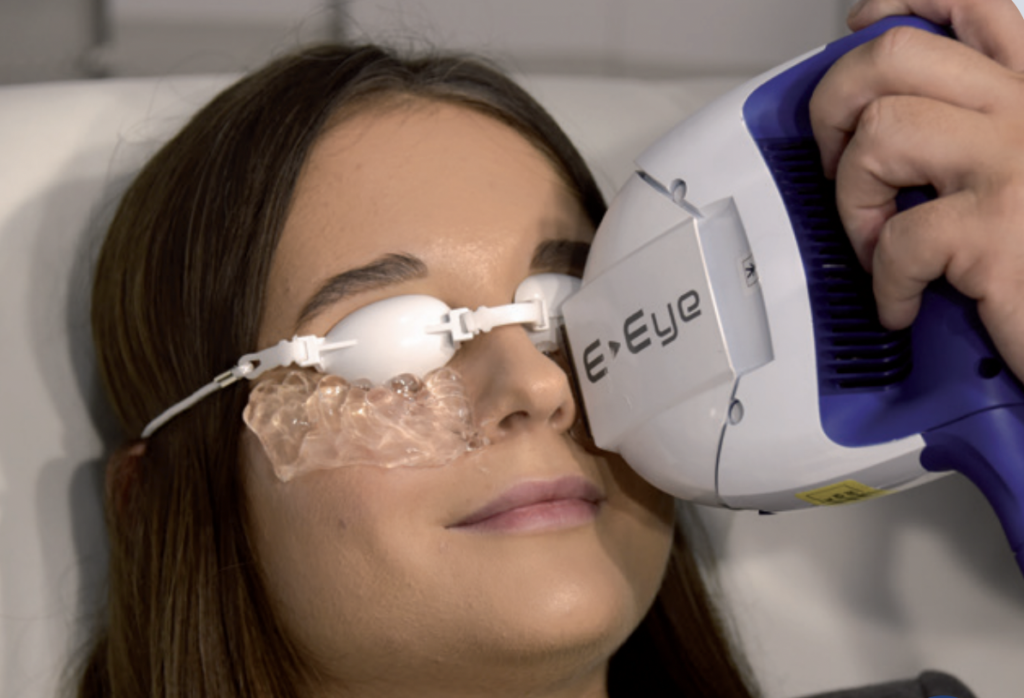 So, What is IPL?
Intense pulsed light, or IPL, uses specially calibrated pulses of light (with specific wavelengths) to treat various conditions. The energy from the pulses of light permeates the surface of the skin and often a few sessions are needed to achieve the desired results.
IPL is a common esthetic treatment for skin conditions and is used to fade visible blood vessels, reduce dark skin spots, and remove unwanted hair. The value of IPL technology for treating dry eyes was actually discovered by accident. Patients who were being treated with IPL for a specific skin problem called rosacea had reported that they were noticing a significant improvement in their dry eye symptoms. More research was done and the benefits of IPL therapy for long-term dry eye relief were established.
Our optometrists use IPL therapy, specifically IRPL, to target the meibomian glands in the upper and lower lids. These glands are responsible for secreting the meibum, the oil component of our tear film.
How Does it Work?
The energy from the IPL pulses is transferred to the meibomian glands via a parasympathetic nerve located in the upper cheek area. This leads to the meibomian glands secreting better-quality meibum into the tear film, resulting in a better quality tear film.
IPL can also break the cycle of inflammation that is associated with dry eyes.
IPL therapy has been shown to improve meibomian gland dysfunction and improve overall tear quality.
IPL vs. IRPL
IPL (intense pulsed light) is slightly different than its counterpart IRPL (intense regulated pulsed light). IRPL is a specific type of IPL treatment.
IRPL has been designed specifically for the treatment of dry eyes while traditional IPL was designed for dermatology and adapted for use for dry eyes.
IRPL uses regulated multi-pulse flashes. There are actually 8 sub flashes within each flash. The energy is constant from the beginning of the flash to the end. In conventional IPL, the pulses of light decrease in intensity from the beginning to the end of the flash. This is not as desirable as the intensity of the energy delivered is diminished and the treatment is not as efficient.
In IRPL there is also a proposed neurological stimulation of the parasympathetic nerve that supplies the meibomian gland. So in addition to improving the quality of the meibum secreted and stabilizing the tear film, it is possible that there may also be some regeneration of the meibomian glands.
What to Expect
You will be required to wear protective goggles, which will be provided by your optometrist. Ultrasound gel will be applied to the upper cheek area.
The flashes of light are not applied to the eyes directly. Instead, the optometrist administers the individual flashes to the upper cheek area and around each eye. The number of flashes will depend on the protocol itself but will usually be at least 5 flashes per eye per session. This part of the treatment only lasts a few minutes. The light therapy is completely painless and has no negative side effects.
The optometrist may also perform manual lid expression following each IPL session. This involves using specialized forceps to gently squeeze out some of the oils from the meibomian glands in the eyelids that had been previously clogged. The number of treatments you require will be determined by your optometrist. Generally, a treatment protocol will involve 3 or 4 sessions to achieve the desired results. Many people feel a significant difference in their symptoms after one treatment, but following your optometrist's directions will continue to treat ongoing symptoms.
Is IPL right for me?
The only way to know for sure is if you speak with your optometrist. IPL may not be prescribed for people who are pregnant or those with very dark skin tones.
If you think you may have dry eyes, it is important to speak with your eye doctor about it. There are ways to alleviate symptoms, and proper treatment could prevent further eye health issues.
Your optometrist may use light therapy to help treat your dry eyes if:
You have chronic or returning dry eye symptoms
You have been diagnosed with meibomian gland dysfunction
Other treatments have not provided long-term relief
The best way to find out if IPL or IRPL is an option for you is to speak with your optometrist and have them assess your dry eye symptoms.