There are many reasons why people choose contact lenses over eyeglasses. They are almost invisible, don't obstruct your vision, and are convenient when engaging in activities.
However, contact lenses can interfere with the normal flow of tears over the surface of the eye, leading to dry eye and discomfort. Contact lenses can also absorb moisture from the eyes, causing dryness.
But that doesn't mean you should stop wearing contact lenses. With a contact lens exam and fitting, your eye doctor can help you find the right contact lenses for your eye health.
What Is Dry Eye?
Your eyes produce tears for necessary lubrication and to maintain eye health. When there aren't enough tears, you experience dry and irritated eyes.
Dry eye is a common condition affecting millions of Canadians where the eyes don't produce enough tears or poor-quality tears.
Causes of Dry Eye
Your tears consist of a watery, oily, and mucin layer that keeps the eyes moist. But if the glands that produce these components don't make enough or if tears evaporate more quickly because of an imbalance in the tear film, it leads to dry eyes.
Various factors can cause dry eyes, including:
Your eyes tend to produce fewer tears as you age.
Hormonal changes make women more likely to get dry eyes.
Certain medications reduce tear production.
Symptoms of dry eye are more likely with some medical conditions.
Environmental factors such as smoke, wind, and dry climates.
Lifestyle factors like blinking less frequently and prolonged time spent in front of a computer screen.
Long-term use of contact lenses can contribute to dry eyes.
Symptoms of Dry Eye
Besides dryness, other symptoms of dry eye can include:
Redness
Stinging, scratching, or burning sensation in the eyes
Light sensitivity
Watery eyes
Stringy mucus
Blurry vision
Dry Eye & Contact Lenses
The most common symptom of contact-lens discomfort (CLD) is dry eyes which can lead to less wear time. So how do contact lenses cause eye dryness?
Generally, contact lenses are supposed to be comfortable and provide clear vision, provided you have the right size, shape, and prescription.
However, because contact lenses sit on the cornea, they divide the tear film into a pre- and post-lens tear film. The result is:
Tear film instability
Tear film lipid layer spread
Tear film evaporation
Less lubrication
Friction between the ocular surface and contact lens
Dry eye symptoms
How to Manage Dry Eyes
Treatment for dry eyes can depend on the underlying cause or your symptoms. Treatment options can include:
Switching your medication
Using lubricating eye drops
Using tear duct plugs
Avoiding conditions that can make your eyes dry
Those with pre-existing dry eyes may find that wearing contact lenses can exacerbate their symptoms. You can manage dry eye symptoms with the help of your eye doctor. We may recommend changing the type of contact lens you wear, contact lens material and water content, contact lens solution, or contact lens wear time.
Type of Contact Lens and Wear Time: Switch to Daily Disposables
Soft contact lenses, made of hydrogel, contain water and are available as daily disposables, 2-week disposables, and monthly disposables. With monthly and 2-week disposable contact lenses, you can wear the lenses every day, clean them in the evening, and discard them at the one-month or 2-week interval. After that, you open a new pack of contact lenses and repeat the process.
You can wear daily disposables throughout the day and discard them once you remove them at night. Daily disposables help prevent protein and other components from tears buildup on the lens that can make eyes feel drier. Because the lenses are discarded daily, they provide more comfort, and the eyes will feel less dry.
In a study, disposable contact lenses reduced contact lens discomfort versus a 2-week replacement schedule.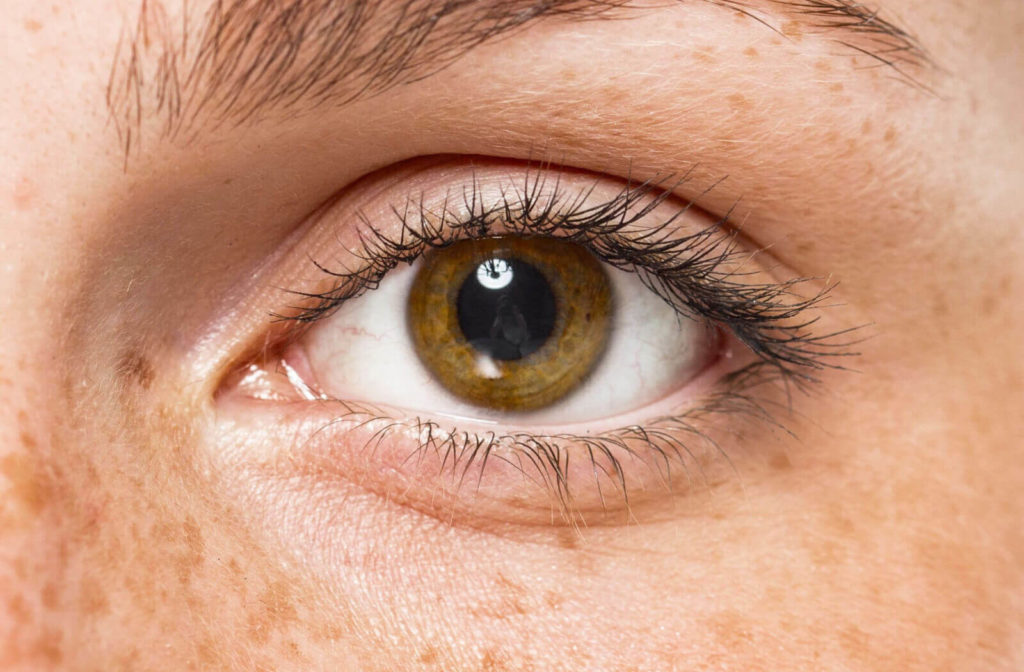 Contact Lens Material: Switch to Silicone Hydrogel
Silicone-based hydrogel contact lenses can stop water from evaporating as readily as others. They may also reduce dry eye symptoms better than regular hydrogel contacts.
Silicone hydrogel contact lenses also generally have a higher DK/t, which means they are more breathable and allow more oxygen to reach the cornea. This is healthier for the eyes long-term.
Water Content
The water content in soft contact lenses differs. You might think that the more water a contact lens has, the better it is for you.
However, traditionally high-water-content contact lenses may dry out the eyes more than low-water-content lenses. Newer technology and innovative contact lens material designs have allowed the latest generation of silicone hydrogel contact lenses to perform much better on the eyes.
As a result, newer silicone hydrogel lenses contribute less to dry eyes than previous, older technology contact lenses. Some newer lens designs even incorporate high-water content yet are very comfortable throughout the day.
Contact Lens Solution
Monthly and 2-week disposable contact lenses need to be cleaned and stored in contact lens solution when they are not being worn. These solutions coat the lenses and contribute to lens comfort.
There are different types of contact lens solutions. Multipurpose solutions (MPS) usually contain some preservatives, which, for some patients, may contribute to dry eyes. Some multipurpose solutions have proprietary ingredients, which may result in a more comfortable contact lens wear experience and less dryness than others.
Some solutions are non-preserved and use hydrogen peroxide as the cleaning agent. These tend to be better for patients with dry eyes and do a more thorough job of cleaning the contacts. However, they must be used with their specific cases to neutralize the solution; otherwise, they can sting the eyes upon insertion!
You do not need to use a solution with daily contact lenses as they are discarded at the end of the day. They each come sealed in a blister pack, ready to be opened and worn each day.
Contact Lens Care
If contact lenses leave your eyes dry, you can help relieve symptoms by ensuring good contact lens care and hygiene practices:
Keep your contact lenses clean.
Change your contacts as recommended by your eye doctor.
Wear your contacts for the recommended time only.
Use rewetting drops to keep the eyes moist when wearing contacts.
Dry Eye Relief with Contacts
Your eyes are unique, and so should the contact lenses you wear. Your optometrist can perform a detailed examination to determine the optimal contact lenses for you based on your unique needs and lifestyle. If you experience dry eye symptoms with contact lens wear, don't hesitate to reach out to your optometrist.
Book an appointment today for a personalized approach to finding the right contact lens and fit for your eyes.