If your eyes are frequently irritated, sore, or red, you may have dry eyes. This condition is common, with many looking for long-term relief. Before you contact your optometrist, you can try managing your dry eyes at home.
Continue reading to learn more about dry eye disease and 5 home remedies for your dry eyes.
What Causes Dry Eyes?
Dry eye disease is a chronic condition occurring when there is instability within the tear film. 3 layers form the tear film: mucus, aqueous fluid, and lipid (oil). When complications develop in one of these layers, it can lead to inflammation and dry eye symptoms.
The symptoms of dry eye disease include:
Light sensitivity
Eye redness
Watery eyes
Stinging, scratching, or burning eyes
Blurred vision
Foreign object sensation
Dry eyes typically occur due to one of two reasons, aqueous deficient or evaporative dry eye.
Aqueous Deficient Dry Eye
Aqueous deficient dry eye occurs when you can't produce enough tears. The glands in your eyes create a constant supply of liquid to help keep your eyes moist and protected. When these glands don't produce enough tears, your eyes can become dry and irritated.
This condition usually happens because of:
These are the most common causes of aqueous deficient dry eye, but other health problems, such as hepatitis C and damage to the tear glands, can contribute to this condition.
Evaporative Dry Eye
Evaporative dry eye happens when small glands in your eyelids become clogged, leading to dry, itchy eyes. Your tear film works to keep your eyes clear, clean, and protected, washing away germs, dust, and other debris when you blink.
The lipid layer of the tear film is responsible for coating the eye's surface with oil, preventing tears from drying out. These tiny glands releasing oil are called meibomian glands.
If meibomian glands become plugged, clogged, or blocked, your tears dry out faster, causing evaporative dry eye. The common causes for this condition include:
Infrequent blinking
Eye allergies
Preservatives in eye drops
Wind, smoke, or dry air
Vitamin deficiency
Who's Affected by Sore Eyes?
Many people have dry eye symptoms, but who is affected by this condition?
It's more common for older adults to experience dry eyes. Tear production can begin to decrease with age.
This condition may be more frequent with age, but anyone can experience dry eyes. It's estimated 30% of Canadians experience the symptoms of dry eye disease. Despite its prominence, some people may be at more risk of dry eyes than others.
Risk Factors For Dry Eye
There are a few different factors increasing someone's chances of experiencing dry eyes. These risk factors include:
Age: Tear production can begin to diminish with age; making people over 50 more likely to experience dry eyes
Diet: People whose diet lacks vitamin A have a higher chance of developing dry eye disease
Gender: A lack of tears is more common in women, & hormonal changes from pregnancy, contraceptives, & menopause can affect this
Contacts: Frequently wearing contact lenses can increase your likelihood of experiencing dry eyes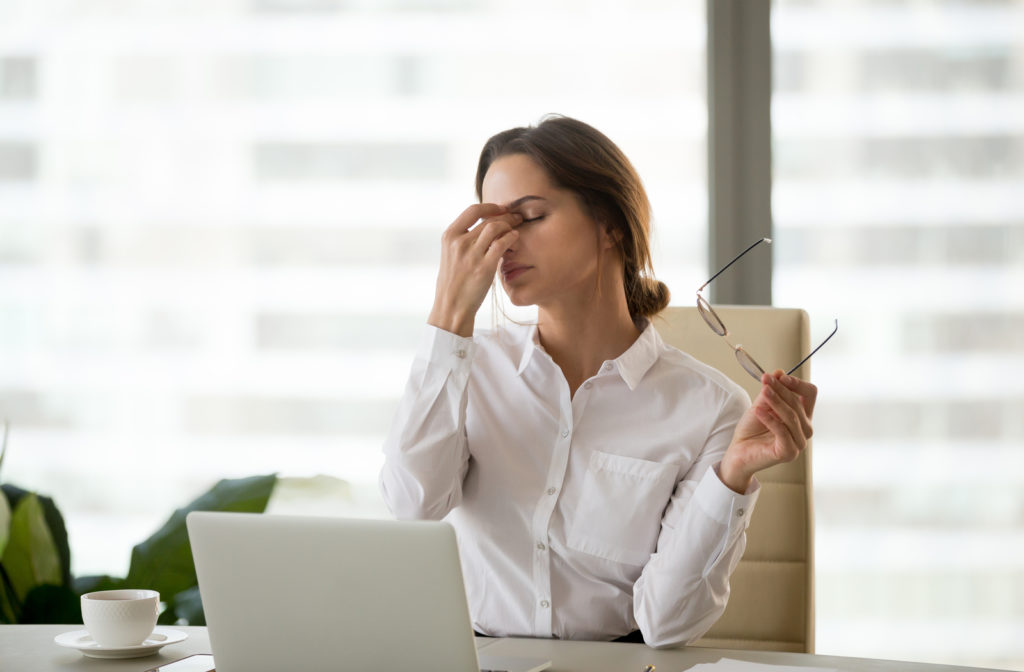 Home Remedies for Dry Eyes: What Works?
Dry eye disease can do more than irritate your eyes. Severe or chronic cases of dry eyes can cause damage to the eye's surface and decreased quality of life. Thankfully, you can attempt to manage your dry eyes at home.
If you experience dry eyes and are looking for relief, try some of these 5 tips:
Increase Your Omega-3 Fatty Acids
Eating more salmon can help your dry eyes. Research from the Brigham and Women's Hospital found that those who consumed larger amounts of omega-3 fatty acids had a 17% lower risk of dry eyes.
You can get your omega-3s from fish, walnuts, vegetable oils, and flaxseed. Supplements can help you get the ideal amount of omega-3 fatty acids.
Frequently Blink
If you work on the computer for long periods, try blinking more. Staring at digital devices can make you blink less frequently, leading to dry eyes. You can combat this by following the 20/20 rule, close your eyes every 20 minutes for 20 seconds.
Another trick you can use is placing a note on your computer reminding yourself to blink. Reading this note can help you avoid dry eyes.
Warm Compresses
If you experience evaporative dry eye disease, it may be because your meibomian glands have become clogged or plugged. When your tears don't have enough oil to protect them from evaporating, your eyes can become dry and inflamed.
To relieve your irritation and loosen clogged oils, you can wet a washcloth with warm water to create a compress. Place it over your closed eyes for at least one minute while gently pressing along the edge of your eyelid to remove blocked oils.
Besides using a regular washcloth, there are specialized heating masks you can purchase to help relieve your dry eyes and clogged meibomian glands.
Clean Your Eyelashes
Dry eye disease can cause inflammation of the eyelids. You can relieve this inflammation by cleaning your eyelids, including the surrounding hair and skin.
Place a small amount of baby shampoo or soap on your fingertips and gently massage your closed eye. Specialized wipes available for purchase can help you clean your lashes and eyelids.
Eye Drops
Over-the-counter eye drops can help keep your eyes moisturized; they work similarly to normal tears. Many common eye drops have preservatives added for longer use, but these may irritate your eyes more. Thicker gels for dry eyes are an additional option.
If you have any questions about the best eye drops for you, contact your optometrist.
Looking for an Eye Doctor?
Dry eyes can be irritating and painful when you can't find relief. If these home remedies aren't helping you, it may be time to visit your optometrist. They can help you find the long-term comfort you need.
If you suffer from chronic dry eyes, request an appointment.