What is Digital Eye Strain?
Our eyes were never meant to do the same thing for extended periods of time. Whether we're talking about reading, watching TV, or gaming; doing the same thing for hours on end can be harmful to every part of your body, and your eyes are no exception.
Reading or staring at a nearby object for several hours causes eye strain, which is when your eyes feel tired due to overuse. Digital eye strain is a similar principle; however, it comes with the added stressor of staring at a backlit digital display like the one on your smartphone, laptop, tablet, and other devices.
Symptoms of Digital Eye Strain
Symptoms of digital eye strain may include:
Dry eyes
Difficulty focusing
Drowsiness or heavy eyelids
Sore or itchy eyes
Headache
Sore neck or shoulders
Blurry or double vision
Sensitivity to light
What Causes Digital Eye Strain?
Digital eye strain stems from forcing your eyes to focus at a single distance for hours at a time. But why is digital eye strain different from the strain you might experience from reading a book for too long?
The answer is that working on digital displays introduces additional elements that your eyes may find difficult to deal with.
Poor Blinking Habits
On average, we blink 12 times a minute. However, when we spend time on computers and other digital displays, our blink rate dwindles down to approximately four times per minute. Blinking helps keep your eyes hydrated, so when we slow down our blink rate, we're causing our eyes to dry out and tire more quickly.
Blue Light
Most digital displays emit blue light which tends to scatter, making it very difficult for the eyes to focus. In order to interpret blue light properly, your eyes have to work harder than they normally would. As a result, the light coming from digital displays can cause your eyes more strain then a normal book or non-digital close work would.
How to Reduce and Avoid Digital Eye Strain
Combat Digital Eye Strain with Stoney Creek Eye Care & Eyewear Boutique
We offer a variety of devices that can reduce or eliminate digital eye strain. These include prescription and non-prescription computer glasses and specialized task lenses.
For more information about these products, and other ways you can reduce digital eye strain, please speak to your optometrist.
At Stoney Creek Eye Care & Eyewear Boutique our trusted team of eye doctors is committed to providing you with high-quality eye care, stylish frames, and personalized attention. We offer a wide variety of services, including:
Convenient Location, Extended Hours,
and Direct Billing
We understand that life is hectic. We want to help make it a little simpler, which is why our centrally-located practice offers extended hours on Mondays and Saturdays. We're also happy to directly bill most major insurance companies on your behalf. And on top of all that? We've got plenty of free parking. Stoney Creek Eye Care & Eyewear Boutique will always do whatever we can to make your life a little easier, located in the Health Science Building.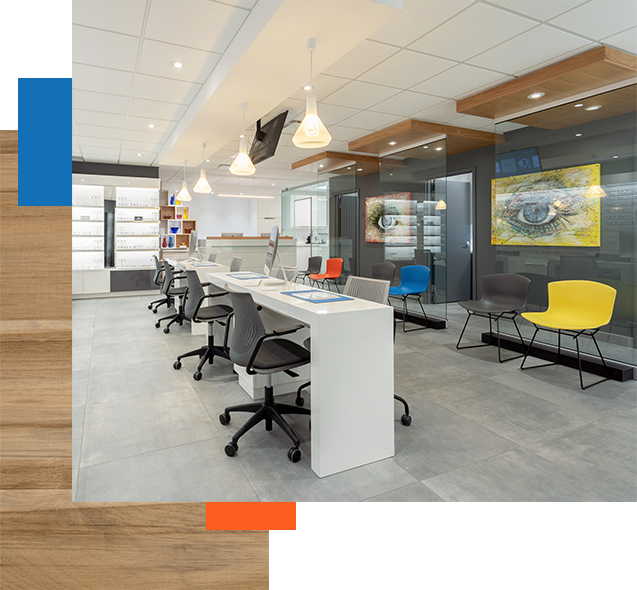 Stoney Creek Eye Care & Eyewear Boutique
15 Mountain Ave S #110

Stoney Creek,

ON

L8G 2V6
Clinic Hours
Monday

9:00 AM - 6:00 PM

Tuesday

9:00 AM - 6:00 PM

Wednesday

9:00 AM - 6:00 PM

Thursday

9:00 AM - 6:00 PM

Friday

10:00 AM - 5:00 PM

Saturday

8:00 AM - 1:00 PM

Sunday

Closed