We've all done it. Rubbing your eyes can be a reflexive impulse, indicating that your eyes are irritated. The temporary relief from rubbing your eyes may ease discomfort when they're tired, dry, or responding to allergens. While it may seem harmless, rubbing your eyes for too long, too often, or too firmly can damage them.
If you notice yourself rubbing your eyes, you should schedule a comprehensive eye exam to uncover what's causing the impulse. Your optometrist can also assess your vision for damage from rubbing your eye and begin the proper treatment.
What Causes You to Rub Your Eyes?
Mindlessly rubbing your eyes throughout the day can become automatic, but chances are, you're doing it for a reason. Even subconsciously, you're looking for relief from irritating symptoms. Some core issues that trigger you to rub your eyes can be fairly common.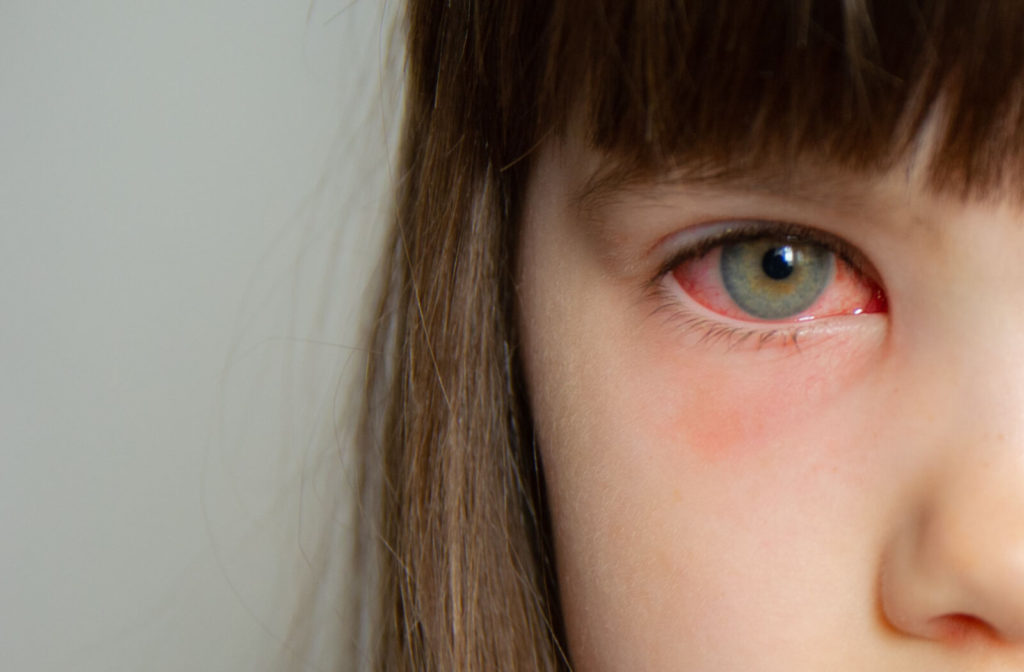 Infections
When germs, bacteria, or viruses enter your eye, you can develop an infection. Conjunctivitis, more commonly referred to as pink eye, is a common infection that causes itchy eyes. If you have conjunctivitis, you may also experience clear or yellow discharge that sticks to your eyelashes.
Blepharitis is eyelid inflammation and possible infection characterized by burning and stinging eyes. Clogged oil glands cause crusty flakes to develop around the eyelashes, and it's tempting to rub away the debris.
Dry Eyes
Whenever your eyes aren't producing enough tears or poor-quality tears, the lack of lubrication may cause your eyes to feel gritty, dehydrated, and irritated. Dry eye disease is common, and the uncomfortable symptoms may prompt you to reach for your eyes.
Allergies
When people experience allergy symptoms, rubbing their eyes may feel like the only relief. However, rubbing your eyes may make them more sensitive rather than ease the discomfort.
Eye Fatigue
As your eyes feel tired, strained, and blurred, the burning and itching can make it almost impossible to avoid rubbing your eyes.
Contact Lenses
While you're wearing contact lenses, you should not rub your eyes. The friction may cause damage to the cornea, causing an abrasion. If your eyes are dry and irritated when you're wearing your contacts, try giving your eyes a rest and wearing your glasses instead.
Is Rubbing Your Eyes Bad?
Unlike your skin, you can't scratch your eye to relieve the itch, so rubbing is the closest relief. But rubbing your eyes can be harsh on your eyes, and the lens or cornea may not come away unscathed.
Your optometrist can help you treat the core condition causing you to want to rub your eyes. You should reach out to us if you experience:
Eye pain
Blurry vision
Inflammation
Headaches
Light sensitivity
Fatigue
Nausea
These symptoms may indicate the beginning stages of eye infections or corneal damage leading to keratoconus, a worn, misshapen cornea.
Eye rubbing can also intensify pre-existing eye conditions. The bad habit can elevate intraocular pressure and cause damage to those with glaucoma. Refractive errors, such as myopia, can also become more severe due to eye rubbing.
How to Stop Rubbing Your Eyes
Knowing the potential damage that comes from rubbing your eyes, you can now make efforts to stop. But how can you stop yourself from doing something that's so automatic? To keep your eyes comfortable, at even their most irritated:
If you have to rub your eyes, practice good hand hygiene and only use gentle pressure to avoid damage.
Why Is My Child Rubbing Their Eyes?
In children, eye rubbing can be a sign of an untreated refractive error, like myopia (nearsightedness), hyperopia (farsightedness), or astigmatism. They may not be able to communicate their eye problems, depending on their age, so it's important to schedule regular children's eye exams to monitor their vision for changes.
Allergies are a common catalyst for children rubbing their eyes, whether environmental or animal-related. Watering eyes, redness, itchiness, and discomfort may cause your child to rub their eyes to ease the symptoms. If you suspect your child has allergies and you only notice them rubbing their eyes in specific settings, talk to their optometrist about prescription eye drops or over-the-counter antihistamines.
Relieve Your Eye Irritation
Rubbing your eyes isn't the best relief. Our dedicated optometry team can help uncover the reason behind the bad habit and treat the root cause to restore comfort. Contact us for an eye exam to assess your eye health and vision.