At this point, it is hardly a secret that sunglasses are about more than simply looking stylish and feeling comfortable.
A good pair of sunglasses is essential to your health; they filter out harmful ultraviolet rays. Excessive and ongoing exposure to UV light is linked to diseases like cataracts, glaucoma, and age-related macular degeneration.
But what about polarized lenses? It's not uncommon to see the word "polarized" next to "100% UV protection" on the tag for a new pair of sunglasses. What does that mean? Will polarized lenses protect your eyes from ultraviolet light too?
Today, we are looking into the science of polarized lenses, including what they do, what they don't do, and whether they're worth the price tag.
What's the Difference Between Polarized & Non-Polarized Lenses?
Light travels in waves, which means it vibrates. Normally, light vibrates in multiple directions. But when light bounces off a horizontal surface like snow, water, or the roof of a car, it only vibrates in one direction, horizontally. This process is called polarization.
Because the light is only vibrating in one direction, it becomes concentrated, hitting the eye directly. We call this concentrated light, "glare."
The difference between polarized and non-polarized lenses is how they handle glare.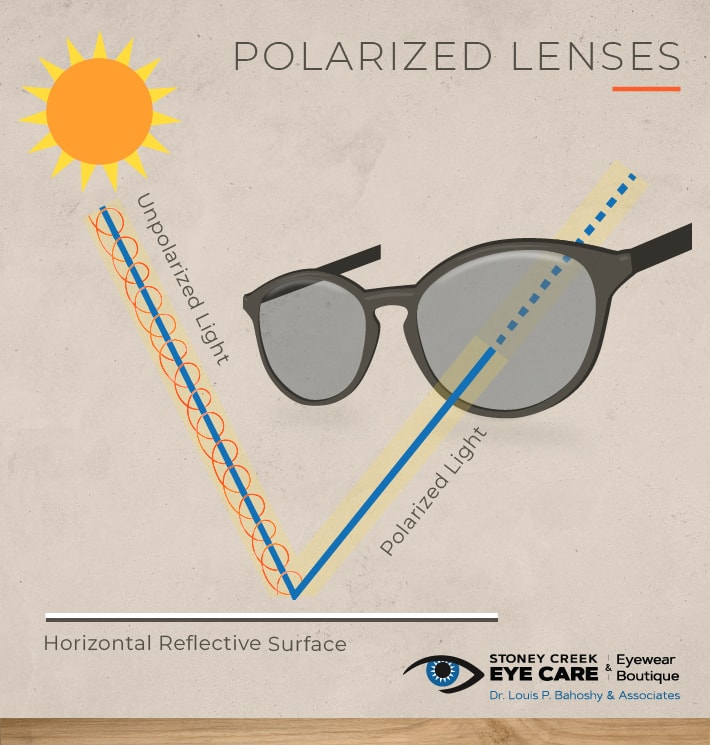 Non-Polarized Lenses
Non-polarized sunglasses are designed to reduce the intensity of any light. If your lenses offer UV protection, they most likely contain special dyes and pigments that absorb ultraviolet rays, preventing them from reaching your eyes.
However, this technology works the same way for all types of sunlight, no matter which directions the light vibrates. As a result, glare will still reach your eyes with more intensity than other light, impacting your vision.
Polarized Lenses
Polarized lenses are treated with a chemical that filters out light. However, the filter is applied vertically, so vertical light can pass through, but horizontal light cannot.
Think of it this way: imagine a picket fence with an inch between each slat. You could easily slide a popsicle stick between the slats if you hold it vertically. But if you turn the popsicle stick sideways so it's horizontal, it can't fit between the slats of the fence.
That is the general idea behind polarized lenses. Some vertical light can pass through the filter, but horizontal light, or glare, is unable to make it through.
The Benefits of Polarized Lenses
Glare Reduction
In the best-case scenario, glare is distracting. In the worst case, it can be dangerous.
Studies indicate that traffic accidents, particularly intersection collisions, occur more frequently when the sun is optimal to produce glare.
By reducing glare, you can stay more aware of your surroundings, which could help you avoid accidents and injuries.
Improved Clarity
Even when glare is not a safety issue, it can impact your ability to see clearly. Athletes and outdoor hobbyists often use polarized sunglasses so they can see with a higher degree of precision.
Polarized sunglasses may also give you a more accurate portrayal of colours than non-polarized sunglasses.
Fatigue Prevention
Research indicates that glare from the sun can cause fatigue. Glare forces your eyes to work harder while they try to interpret the information they're taking in. This kind of overwork is also called eye strain, which can cause your eyes to feel tired, sore, or impossible to keep open.
When Do Polarized Lenses Work Best?
Polarized lenses may not be the ideal choice in every situation. For instance, devices that use LCD displays emit polarized light. If your car uses LCD displays for basic controls, you should avoid polarized sunglasses while you drive.
However, polarized lenses are an excellent choice for:
Golfers
Skiers
Fishermen
Motorcyclists
Beachgoers
Are Polarized Lenses Better for My Eyes?
Polarized lenses will not protect your eyes from UV damage more than standard 100% UV lenses. However, they can give you clearer, more accurate vision and alleviate some eye strain.
If you find yourself squinting a lot, even when you're wearing sunglasses, consider investing in polarized sunglasses. You may find them to be a more comfortable option.
Whatever you do, remember to protect your eyes from ultraviolet rays. Ensure your sunglasses offer 100% UV protection and wear them anytime you head out into the sun.