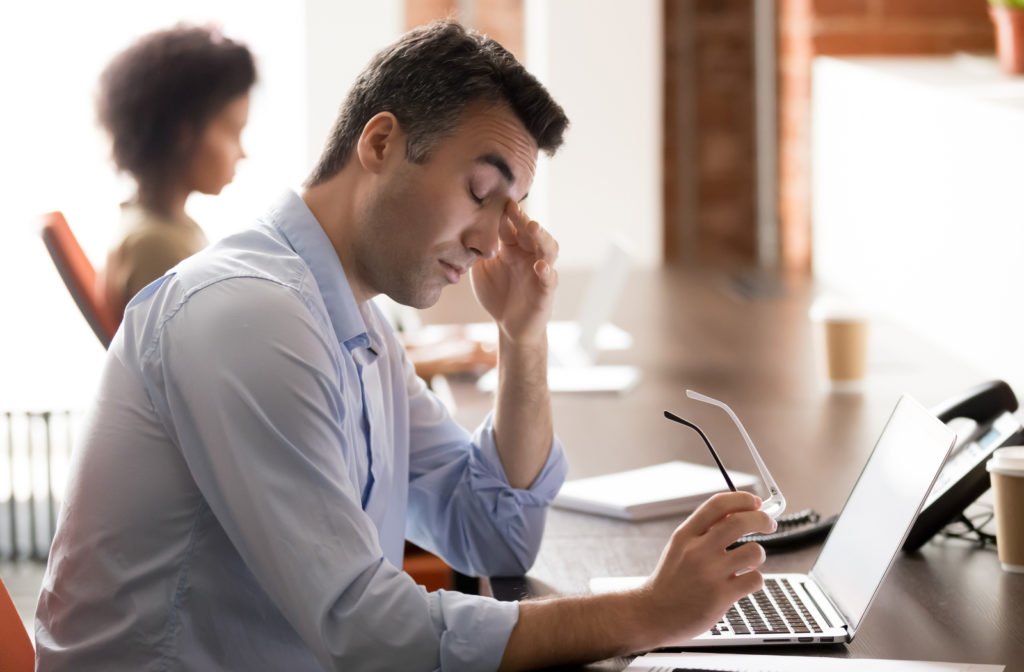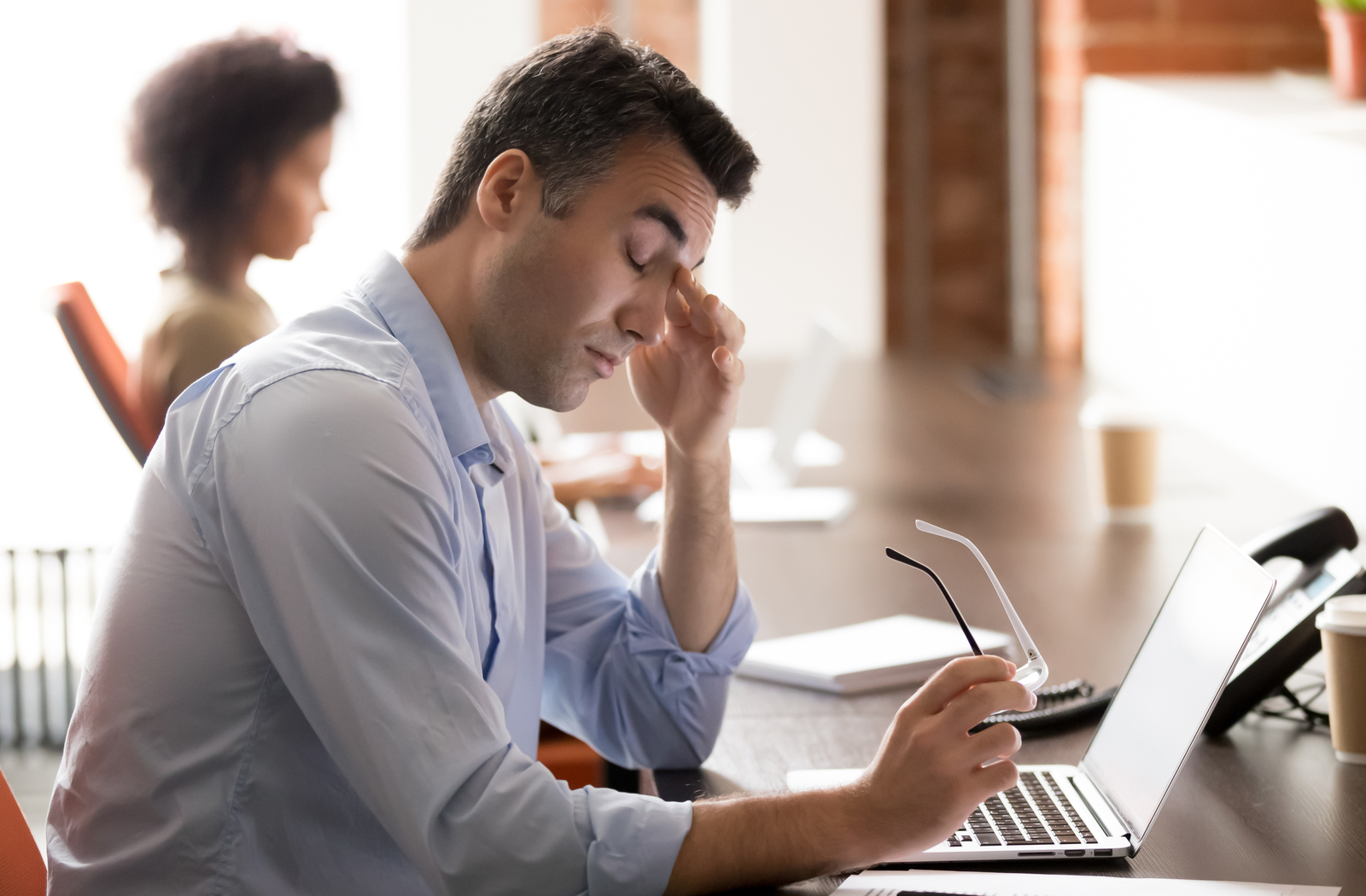 What is Digital Eye Strain?
Digital eye strain, also known as computer vision syndrome, encompasses a number of visual issues, from discomfort to dry eye, caused by the use of digital devices. In other words, digital eye strain is discomfort caused by using computers, tablets, and phones.
Around 90% of people who spend more than 3 hours per day using a digital device, including children, will experience some degree of digital eye strain. This is because our eyes weren't designed to do the same, repetitive activities for hours on end. When we do, our eyes grow tired and strained, just like any other muscle in our body would after repeated use.
Our eyes exert extra focusing effort when we use digital devices. It can happen to anyone who uses a digital device for extended periods of time whether you're checking work emails on your tablet, scrolling Facebook on your phone, or playing video games on your PC.
How to Tell if You Have Digital Eye Strain
There are a number of different symptoms of digital eye strain as well as factors that can increase your risk.
Symptoms
Many people with digital eye strain will experience some or all of the following symptoms.
Dry eyes
Difficulty focusing
Drowsiness or heavy eyelids
Sore or itchy eyes
Headache
Sore neck or shoulders
Blurry or double vision
Sensitivity to light
Risk Factors
Using a digital device for 3 hours or more per day
Having your computer or another digital device closer than an arm's length away from your face
Dim lighting or excessively bright lighting or glare when using your digital device
It's important to discuss these factors with your optometrist as well as what activities you commonly use your digital device for. Discussing your use habits will help your optometrist determine whether your symptoms are from digital eye strain or a more serious condition.
The Link Between Digital Eye Strain & Dry Eye
Dry eye is a common symptom of digital eye strain. One study found that 27.2% of people experiencing digital eye strain reported dry eye as one of their symptoms. Using digital devices decreases your blink rate, which can dry out your eyes.
On average, you blink 12 times per minute, but when using digital devices your blink rate drops to only 5 times per minute. Less blinking means a greater chance of your tears evaporating, which can cause dry eye. Repeated back and forth movements, like from reading text on a screen, can also worsen irritation and exacerbate dry eye symptoms.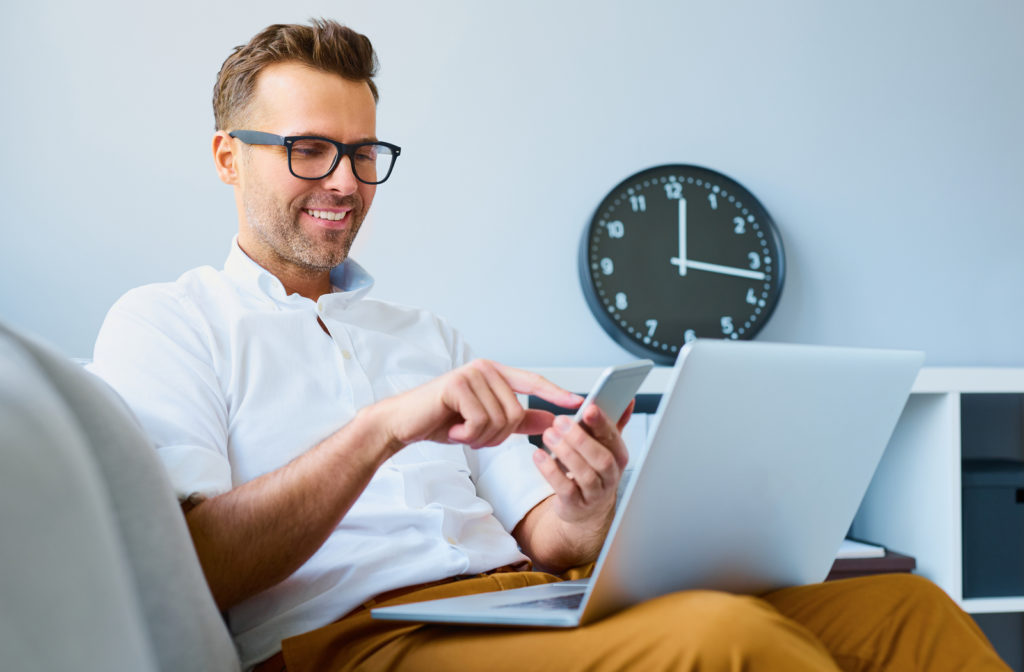 How to Prevent & Manage Digital Eye Strain
From keeping your screen free of fingerprints and dust (yes, really) to adjusting your workspace, there are many simple ways you can help reduce the impact of screens on your eyes.
Improve Desk Ergonomics
Whether it's for work or play, how you organize your computer area can have a big impact on your eye health and your overall comfort. Make sure that your computer monitor is an arm's length away from your face. Position your monitor so it's at or slightly below eye level and adjusted to reduce glare.
For the rest of your body, make sure you're seated in a way that allows your neck, shoulders, and arms to relax. Your back should be supported by your chair and your thighs should be parallel with the ground with your feet flat on the floor (or supported by a footrest).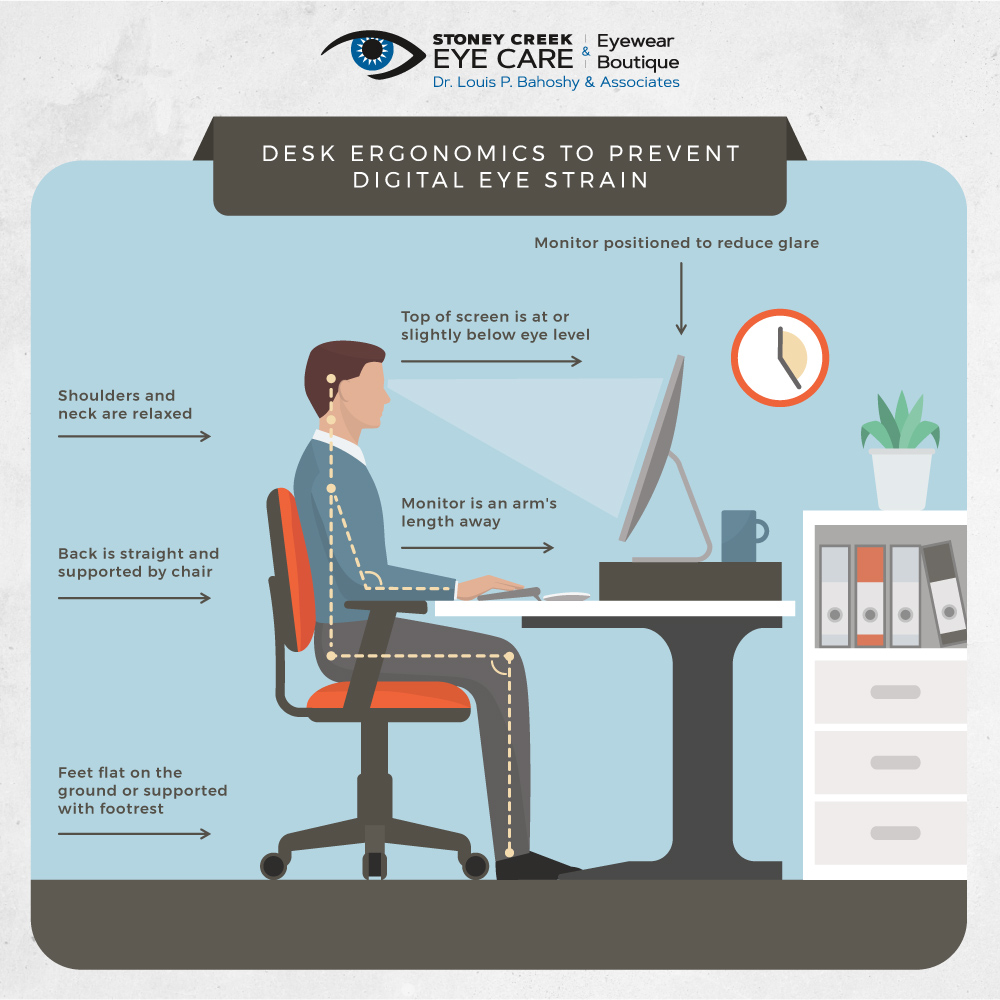 Adjust Screen Brightness & Settings
The brightness of your screen should match your surroundings; not overly bright but also not so dim that text is difficult to read. Increasing contrast or adjusting your screen's colours can also help. Some monitors have an "eye saver" or "eye care" mode that can help reduce eye strain by reducing brightness or giving your screen a yellow tint.
Increasing text size on your computer can be helpful as well. If you find yourself continuously needing to increase text size on your computer, however, it could be a sign of presbyopia.
Take Regular Breaks (20-20-20 Rule)
Short, regular breaks can go a long way in improving your eye comfort. The 20-20-20 rule is a good way to remember to give your eyes a much-needed break. Every 20 minutes, take a 20-second break to look at something 20 feet away.
Wear Protective Lenses
Anti-glare or blue light filtering lenses can help block types of light that strain our eyes. Anti-glare lenses can help block glare, which can be helpful if you're exposed to a lot of glare from your computer screen, like from fluorescent lights, for example.
Blue light filtering lenses help to filter out blue light. Blue light is a naturally occurring type of light ray that is emitted by the sun and digital devices like computer monitors, tablets, and smartphones. It may be linked with digital eye strain, as blue light reduces contrast, making screens more difficult to read. Both glasses and contacts are available with blue light filters, although glasses are usually the most effective option as they shield your entire eye.
Dry Eye Treatments
If your digital eye strain symptoms include dry eye, dry eye treatments may help. Eye drops, or artificial tears, can help reduce discomfort during long days in front of the computer. Your optometrist will be able to recommend the best treatment option and determine whether your dry eye is due to digital eye strain or if there is another cause.