Eye conditions can take you by surprise, and you may not know what to do. Many symptoms of serious eye conditions can seem like a non-issue, but you may be placing your eyes at risk. If you're experiencing symptoms of an eye condition, how do you know when you need emergency care?
Continue reading to learn more about some of the common symptoms of eye conditions, including 6 signs you need emergency eye care.
Eye Pain
Pain is common for many eye conditions, and typically it resolves with time. If it doesn't, you likely require emergency eye care. Eye pain can occur on your eye's surface or inside your eye, depending on the cause.
Some common conditions related to eye pain include:
Foreign object
Corneal abrasion
Trauma
When is Eye Pain an Emergency?
Many factors can lead to eye pain, so how do you know if you're facing an emergency? Visit your optometrist right away if you experience any of the following:
Severe eye pain
Eye pain caused by trauma
Sudden vision changes
Light Sensitivity
Light sensitivity is a condition where bright light irritates your eyes. It can range in severity from person to person. You may squint when in a bright room, or you may feel pain when exposed to sunlight.
It's a common symptom of several eye conditions, such as:
Corneal abrasion
Scleritis
Conjunctivitis
When Should You Seek Medical Attention?
You should seek medical care when you experience light sensitivity alongside other symptoms. See your eye doctor if you experience this condition combined with blurry vision, eye pain, or redness.
Burning or Itching Eyes
Burning or itching eyes can be a sign of infection or another eye condition. Without proper treatment, you may even be at risk of eye damage or vision loss. A burning or itching sensation can be a sign of:
Eye infection
Foreign object
Eye injury
Dry eyes
If your eyes feel itchy or like they're burning, visit your optometrist as soon as possible.
Eye Redness
Red eyes happen when the blood vessels in your eye become swollen or irritated.
Sometimes called bloodshot eyes, this symptom can mean you're experiencing one of several eye conditions. Some of these conditions aren't serious, while others can mean a trip to your optometrist.
Eye redness is associated with:
Injury
Conjunctivitis
Irritation
Allergies
Corneal ulcers
Dry eyes
Eye infection
When Should You See Your Eye Doctor?
Eye redness alone doesn't warrant an emergency, but it can be concerning under certain circumstances. You should see your optometrist if you experience:
Symptoms lasting longer than a week
Changes in vision
Eye pain
Light sensitivity
Discharge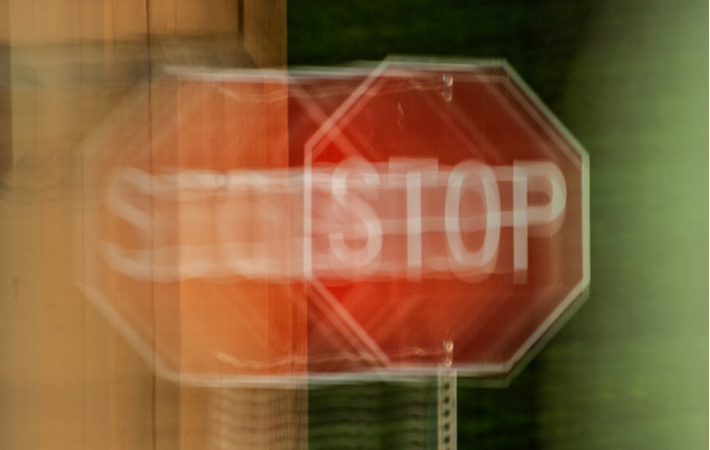 Double Vision
Diplopia, known as double vision, causes you to see 2 images of the same object. It's typically a sign of an underlying condition. Depending on the cause of your double vision, you may have a problem with your eyes, brain, or the nerve within your eyes.
Common causes of double vision include:
Severe astigmatism
Keratoconus
Cataracts
Dry eyes
Pterygium
Nerve damage
Diabetes
Strabismus
Iritis
When Should You Seek Medical Attention?
You should see your optometrist as soon as you experience double vision. It's a sign that something is wrong, no matter how insignificant you think your symptoms may be. Some conditions causing double vision require immediate medical attention.
Sudden or Severe Headache
Headaches are incredibly common; you're statistically likely to have one at least once a year. This pain is usually not an issue, even if experiencing a migraine. Headaches usually disperse with time.
However, headaches can be a sign of a few different eye conditions. Headaches can be a sign of:
Elevated intraocular pressure from Glaucoma
Eye strain
Iritis
When Are Headaches Concerning?
Because headaches can vary, you should know when to seek medical attention. Visit your optometrist if your headache presents alongside visual symptoms. You may notice flashing lights, floating lights, and blind spots in your vision.
Watch Out For Dry Eyes
Eye conditions can be deceiving at times; your symptoms may not be as serious as you thought. Many common symptoms can be a result of dry eye disease. Dry eyes affect nearly 30% of Canadians, causing irritation and affecting your quality of life.
Signs of dry eye disease include:
Blurry vision
Burning, itching, or stinging eyes
Light sensitivity
Discharge
Eye redness
Eye fatigue
Even though dry eyes aren't a significant threat to your vision, they can still cause discomfort and affect your everyday life. If you experience any irritation or common symptoms, it's never a bad idea to visit your optometrist.
They have the expertise to diagnose any underlying problems during a comprehensive eye exam. Whether you're experiencing dry eyes or another vision problem, your eye doctor can help.
If you're experiencing symptoms of any eye condition, book an appointment and protect your vision.