Myopia is the world's most common refractive error, affecting more than 27% of people globally. If you or someone you love has myopia, it's vital to manage it as soon as possible so that you can reduce its potential impact. Corrective lenses are a critical part of myopia management, but should you choose glasses or contact lenses?
At Stoney Creek Eyecare, we help patients with all kinds of needs and lifestyles manage myopia effectively. We're here to help you understand the pros and cons of both glasses and contact lenses for myopia control so that you can have an informed conversation with your eye doctor about which method will be best.
Why Is Controlling Myopia So Important?
Myopia occurs when the eye becomes too long, focusing light in front of the retina instead of directly on it. This focusing error causes blurry vision when looking at faraway objects.
Myopia usually progresses most rapidly during pre-teen and teenage years before leveling off in a person's early 20s. However, it is also associated with an increased risk for numerous potentially severe ocular diseases and other eye problems. Children with myopia have a higher risk of developing:
Cataracts
Glaucoma
Retinal detachment
Myopic macular degeneration
The worse a person's myopia is, the higher their risk for these problems may be. Therefore, diagnosing and controlling myopia as early as possible is vital for reducing its potential consequences.
Scheduling regular eye exams can help your eye doctor diagnose myopia before it has a chance to progress and recommend a plan to manage it effectively. This plan may involve either glasses or contact lenses, depending on your needs and preferences.
Glasses vs. Contact Lenses For Myopia Control
Glasses
Since myopia primarily affects a person's ability to focus at a distance, single vision lenses can correct the resulting vision problems. However, numerous studies show that wearing bifocals causes a small but statistically significant decrease in the rate at which myopia progresses, compared to wearing standard single vision lenses.
Several types of specialized eyeglass lenses are also designed specifically for myopia control. One example is the Zeiss MyoVision Pro, which we use in our clinic and is based on the principle of peripheral defocus. Such lenses may reduce myopia progression by focusing light from the periphery in front of the retina, causing the eye to respond by slowing down its axial length elongation.
Zeiss Myokids is another type of eyeglass lens designed for myopia control. This specialized progressive lens is designed for children and uses the principle of accommodative lag management. Reducing accommodative lag has been shown to potentially reduce childhood myopia progression.
Contact Lenses
Single vision contact lenses can help a person with myopia focus at a distance but will still focus their peripheral vision behind the retina. Conversely, some multifocal lenses focus distance vision on the retina and peripheral vision in front of it (once again relying on the principle of peripheral defocus, which we explained in the last section).
MiSight contact lenses by Cooper Vision are currently the only contacts the FDA has explicitly approved to slow down myopia's progression. These lenses use peripheral defocus in two correction zones to correct myopia in all gaze positions, making them easier to use than progressive eyeglass lenses for most people. MiSight lenses can only be dispensed by authorized optometrists who are certified to prescribe them, and are considered the industry gold standard for myopia control using soft contact lenses. These lenses are available at our practice, and we routinely recommend them for patients with myopia.
Ortho-K lenses can also slow myopia's progression. These lenses reshape the cornea during sleep by making the mid-periphery steeper. The wearer can then remove the lenses in the morning, enjoy clear vision throughout the day, and wear them again at night.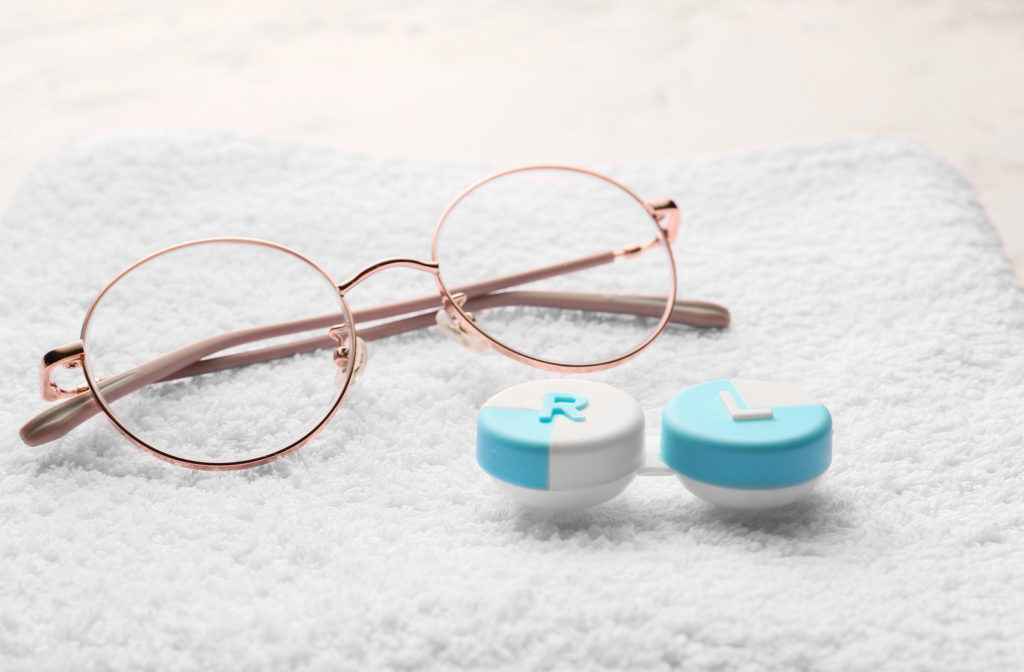 What Vision Correction Devices Should I Use For Myopia Control?
Both glasses and contact lenses can be suitable for myopia control, depending on the circumstances. However, each method comes with pros and cons that you'll want to consider:
Glasses
Pros:

More comfortable to wear and remove than contact lenses (and require less maintenance)
Can be used at a younger age than with contact lenses
Myopia control eyeglass lenses have been shown to slow down the progression of myopia by about 15-30%

Cons:

Can be lost or damaged more easily than contact lenses
May not provide the same level of myopia control as other myopia management options
Contact Lenses
Pros:

May control myopia more effectively than eyeglasses, depending on the type and power of the lenses
Have been shown to reduce myopia progression by ~40% or better on average
MiSight contact lenses can slow down the progression of myopia by 59%, making them more effective than current eyeglass options for myopia control

Cons:

Children may have difficulty inserting and removing contact lenses unassisted and may not know how to care for them properly, so contacts may not be a realistic option for children under 8 years old
Get a Clearer View of Your Options For Myopia Control
Ultimately, choosing eyeglasses or contact lenses for myopia control is your decision. Use what you've learned above to have an informed discussion with your eye doctor about the vision correction devices that you and your family use so that you can control myopia effectively and reduce the risks associated with it.